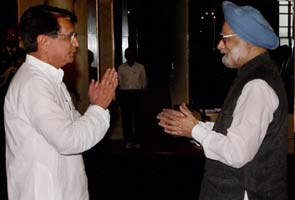 New Delhi:
'Political untouchability' is a term that does not figure in the lexicon of Jat leader and Rashtriya Lok Dal chief Ajit Singh as seen from his past alliances with parties of all hues which have a stake in Uttar Pradesh like the Congress, BJP, SP and BSP.
Mr Singh, the current Civil Aviation Minister, has twice before been part of the Central government. He became a Cabinet Minister for the first time in the VP Singh government in 1989 when he served as the Industry Minister.
The 72-year-old MP from Baghpat in Uttar Pradesh became a Cabinet Minister for the second time when he was given the Food portfolio from February 1995 to May 1996 in the Narasimha Rao government. He had merged his party with the Congress then.
His third stint as a Cabinet Minister was in the BJP-led NDA government when he became the Agriculture Minister from July 2001 to May 2003.
Mr Singh, who has a strong political legacy as he is the son of former Prime Minister Chaudhary Charan Singh, has always capitalised on the loyal Jat votes. He has also nurtured chief ministerial ambitions with his demand for a separate Harit Pradesh in western UP.
He was quick to welcome UP Chief Minister Mayawati's recent proposal of dividing the state into four parts though the two leaders do not see eye-to-eye on other issues.
Mr Singh, a computer engineer by profession who worked for 15 years in the US before returning to India in 1986 to enter politics, has won Lok Sabha elections six times and lost only once in 1998. In 1996, he won on a Congress ticket.
Mr Singh has been a crucial player in state politics of Uttar Pradesh at different junctures. In July 2001, he tied up with BJP but withdrew support to the BSP government that was supported by BJP and his RLD. The government collapsed.
When Mulayam Singh Yadav-led Samajwadi Party came to power in 2002, he supported the government till a few months before the 2007 Assembly polls.
Mr Singh, an IIT-Kharagpur alumnus who later went to Illinois Institute of Technology, Chicago, won his first Lok Sabha election in 1989. He entered Parliament as a Rajya Sabha MP in 1996.
Mr Singh formed the Rashtriya Lok Dal in 1999. He began his political journey as President of Lok Dal, then merged his party with Janata Party and became its president in 1988.
Later, he merged his party with the Congress.
Though he had won the 1996 polls on a Congress ticket, Singh quit the party a months later and came back to Lok Sabha in 1997 after defeating a Congress candidate.
In the present Lok Sabha, his RLD has five MPs. His son Jayant, MP from Mathura, is carrying on his legacy.