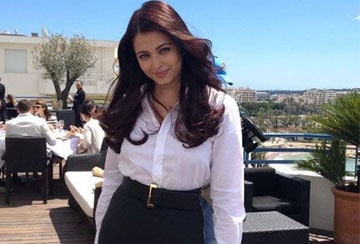 New Delhi:
Possibly India's best known face, and certainly it's most glamorous, 40-year-old Aishwarya Rai's tryst with destiny began 22 years ago, when she appeared in style bible American Vogue. The year was 1991 and the blue-eyed stunner was 17 and just starting out as a model. Aishwarya had already participated in the international Ford Supermodel contest and was about to star opposite Aamir Khan in a commercial for Pepsi. The single line of dialogue she had in the commercial made her instantly famous - "Hi, I'm Sanjana," she breathed, sending male pulses racing.
Mangalorean Aishwarya was born on November 1, 1973, into a family with no showbiz connections whatsoever. Her father was a marine biologist and her mother a homemaker. Her older brother is an engineer in the Merchant Navy. She grew up in Mumbai and her first modeling assignment, for Camlin, came when she was in the ninth grade. After school, she went to Jai Hind College for a year and considered a career in medicine before finally enrolling for an architecture degree in Mumbai's Raheja College.
While Aishwarya was at Jai Hind College, photos taken by a professor were published in a fashion magazine and there was no looking back. Eventually dropping out of her architecture course, Aishwarya quickly became the model every designer wanted to book and every brand wanted as their face. When she entered the Miss India pageant in 1994, she was the clear favourite to win and, indeed, nobody expected her not to.
But she didn't win. In a shock defeat, the crown went to the unknown Sushmita Sen who went on to become India's first Miss Universe. Aishwarya took it with a smile, and won the Miss World crown later that year. She continued to model for the next three years and made her first film appearance in 1997's
Iruvar
, directed by Mani Ratnam. She starred opposite Southern superstar Mohanlal in the Tamil language film, and one of the two characters she played in the film was said to be a fictionalised version of actress-politician J Jayalalithaa. While
Iruvar
was a critical and commercial success, Aishwarya's first Bollywood movie was most emphatically not.
Aur Pyaar Ho Gaya
, which released the same year, tanked at the box office and Aishwarya's performance left critics cold.
But cinematic success was just around the corner. In 1999, Aishwarya starred opposite Salman Khan and Ajay Devgn in Sanjay Leela Bhansali's
Hum Dil De Chuke Sanam
. The film fetched Aishwarya a Filmfare Best Actress award. She continued her winning streak with
Taal, Josh
, the Tamil language
Kandukondain Kandukondain
and
Devdas
, which reunited her with director Sanjay Leela Bhansali and earned her a second Filmfare Best Actress award.
By now, Aishwarya was a huge star and could afford to experiment, which she did with Bengali film
Chokher Bali
, playing a predatory young widow. The critics were charmed, and so were the fans. But her next few film were misses, more often than not - including
Kuch Na Kaho
with future husband Abhishek Bachchan. But Aishwarya had bigger plans than ruling the box office at home. She was looking west.
In 2004, she scored her first international movie,
Bride And Prejudice
, directed by Brit-Indian talent Gurinder Chadha. Aishwarya's performance as the Punjabi version of Jane Austen's classic heroine, Elizabeth Bennet, divided critical opinion but did put her on Hollywood's radar. She went on to play a battered wife in Provoked, a clairvoyant store keeper in
The Mistress Of Spices
, a warrior in The Last Legion, and a jewel thief in the big budget
The Pink Panther 2
, as part of an ensemble cast led by Hollywood funny man Steve Martin.
Back home, Aishwarya notched up hit after superhit with
Dhoom 2, Guru, Jodhaa Akbar, Sarkar Raj, Raavanan
and
Enthiran
opposite South Indian force of nature Rajinikanth. In between the hits were occasional hiccups. The Hindi version of
Raavanan
was a box office turkey, as was time travel comedy
Action Replayy
.
As a brand ambassador, Aishwarya is at the top of the most-wanted list. Her most lucrative association has been with L'Oreal; she has represented the brand at the Cannes Film Festival for 12 years running now, something that has helped make her India's most famous face abroad. She's been interviewed by Oprah Winfrey and David Letterman, made Time Magazine's list of most influential people, been the subject of a 60 Minutes profile, and had a tulip in the Netherlands named after her.
Aishwarya has also been named Goodwill Ambassador for UNAIDS, and will help raise awareness about HIV and AIDS among children. She strongly believes that every baby should be born free from HIV and told PTI, "I promise that with UNAIDS I will do my utmost to make this happen." Aishwarya's father-in-law, Amitabh Bachchan, has served as Goodwill Ambassador for UNICEF. In 2009, she was awarded the Padma Shri by the Indian government.
But being the world's 'most beautiful woman,' meant that Aishwarya was fair game for public discussion, her every move open to the most microscopic examination. Her romantic attachments have been tabloid fodder, made doubly sensational by the fact that her first filmy boyfriend was Bollywood bad boy Salman Khan, who she met while filming
Hum Dil De Chuke Sanam
.
Salman, who famously poured a bottle of cola over an ex girlfriend's head, had a history of violence. The break up, when it came, was bitter. The fallout included a severing of relations between Aishwarya and her
Devdas
co-star Shah Rukh Khan, after a reported bust up involving Salman on the sets of Shah Rukh's film
Chalte Chalte
which originally featured Aishwarya in the female lead. Her next relationship, with actor Vivek Oberoi, also ended badly and included an episode in which Vivek accused Salman of making threatening phone calls to him.
But, like the best Bollywood script, there was a happy ending in store for Aishwarya. She fell in love with Bollywood royalty Abhishek Bachchan on the sets of
Umrao Jaan
(2006) and married him in 2007, after the release of
Guru
in which they both starred. Since then, Aishwarya and Abhishek have rarely made appearances without each other, even going on Oprah together. They are fiercely private, often leaving major announcements to Abhi's father, Amitabh Bachchan, who announced both Aishwarya's pregnancy in 2011 and the birth of her daughter on November 16 that year. It was left to him to also confirm the littlest Bachchan's name, Aaradhya, on Twitter.
Clearly enjoying her new role as a mother, Aishwarya has taken little Aaradhya all over the world with her - from Dubai to the French Riviera. Last year, she made her first public appearance after Aaradhya's birth at the Cannes Film Festival, in the wake of a hotly-argued debate over her failure to lose her baby weight. Unfazed by the criticism, Aishwarya pulled out a series of sartorial surprises on the Croisette - a boho-chic maxidress as her first outfit instead of an ethnic ensemble; a sari with a jacket; and a spangly, dark grey Elie Saab gown that clung to every plus-size curve. The message was clear - Aishwarya wasn't going to be thin for the weight watchers.
And that pretty much sums up Aishwarya Rai Bachchan. She's a very unexpected person.