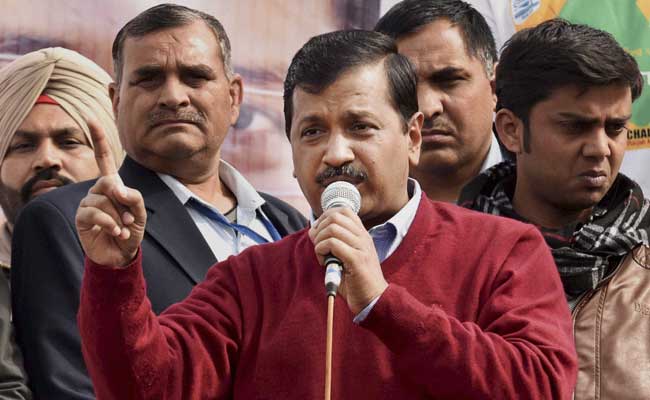 Delhi Chief Minister Arvind Kejriwal has an ambitious plan - to turn Delhi into London. While campaigning for the upcoming Municipal elections, the Chief Minister promised to make the capital look like London in a year if his party wins the civic body polls. "In the assembly polls you gave us 67 seats but this time do not leave any such gap. If we win the MCD polls, we will spruce up Delhi and make it look like London within a year," he said while campaigning in Delhi's Uttam Nagar.
Chief Minister's claims were soon trending on Twitter.
Kejriwal : Ham Delhi Ko London Bna Denge
Rajeev Chowk Metro Station : Ye Ho Chuka Hai. pic.twitter.com/9HzB0LgOSh

— Lost Boy (Humor Boy) (@muh_pe_bolunga) March 6, 2017
Mamata wanted 2 turn Kolkata into London.Kejriji now wants to make Delhi look like London.Impossible task!Why not make cities just liveable?

— taslima nasreen (@taslimanasreen) March 6, 2017
.@ArvindKejriwal sir Delhi ko London banane ke baad MCD employees ki salary pounds me milegi ya dollars me ?

— TheFrustratedIndian (@FrustIndian) March 6, 2017
@FrustIndian@ArvindKejriwal Forget about making Delhi ko London. If kejriwal elected in London, he will turn London into Delhi.

— Arbia khan (@arbiakhann) March 6, 2017
https://t.co/ck9KBLbOTg kejriwal ji London to door ki baat he aap dili ko somalia na bana dena https://t.co/ck9KBLbOTg

— azaad (@anildatta24) March 6, 2017
Delhi's reaction to Kejriwal's promise of making a London out of Delhi. pic.twitter.com/M93i0N7AlV

— Mahesh Jagga (@MaheshJagga) March 6, 2017
My daughter wants to go to London for her vacation
Told her wait for a year
Kejriwal will make Delhi ..London in a year 😜

— Sameera Gawandi (@sameeratweeter) March 6, 2017
Arvind Kejriwal boasted that his two-year-old government has done what the BJP governments in Madhya Pradesh and Chhattisgarh failed to do in 10-15 years. He also claimed their government in Delhi delivered on the promises they made two years ago for the assembly polls.
Delhi has three municipal bodies - north, south and east corporations. The polls for the civic bodies are due in April. BJP currently manages the three civic bodies in the capital.
This is not the first time a political leader has promised to turn an Indian city into its international counterpart. In 2011, West Bengal Chief Minister Mamata Banerjee made public her plan to turn Kolkata into London and Darjeeling into Switzerland.