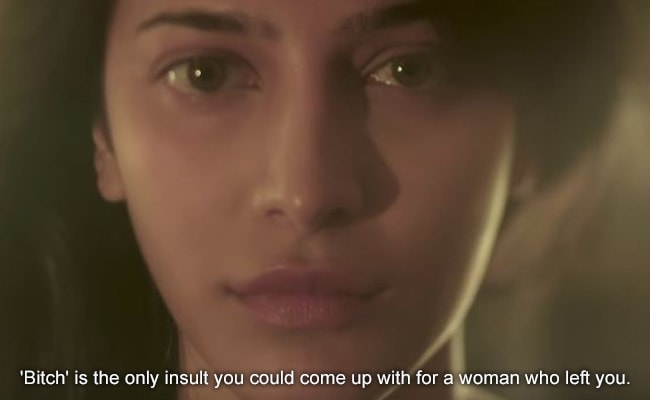 Highlights
The video has been published by Culture Machine's digital channel Blush
It has been written and narrated by actor Shruti Haasan
Published last evening, the video has celebrities and Twitter raving
Actor Shruti Haasan isn't afraid to be called a 'bitch' and is happy to tell you exactly why.
In a two-and-a-half-minute video titled 'Be The Bitch,' Shruti rips into popular perceptions and completely redefines the word as a statement of girl power.
Written and narrated by the actor, the video has been published by Culture Machine's digital channel Blush for their #Unblushed series, which has also featured
Kalki Koechlin
,
Radhika Apte
and more recently
Amitabh Bachchan
.
"Bitch is the verbal eye roll you make to classify any woman who is not your cup of tea because she refuses to pour it," she says in the video. "The bitch is a teacher who stands against a system. The bitch is multitasker and that's why she has no time for your excuses. The bitch is pure ambition with hormones."
The video, published last evening, has celebrities and Twitter raving.
The Expression as is!! @shrutihaasan you are Rockstar!! More power to you!! https://t.co/mHvd7ehpwE

- Rana Daggubati (@RanaDaggubati) October 13, 2016
What a bitch!!! Nice one @shrutihaasanhttps://t.co/oqjGwHM3za

- arjun rampal (@rampalarjun) October 13, 2016
Very few speak their mind without filters!
Here's one new age rockstar doing her thing @shrutihaasanhttps://t.co/gf3XmRR2yN

- Sushanth A (@iamSushanthA) October 13, 2016
@shrutihaasan Tis is fab !!More powa 2 ya galhttps://t.co/0A8Kaivp8I

- Trisha Krishnan (@trishtrashers) October 13, 2016
Love the way this video moves and the way you say it just as it is #BeTheBitchhttps://t.co/352sQeILK7 Grandé @shrutihaasan

- Shweta Pandit (@ShwetaPandit7) October 13, 2016
Phenomenal!#UnBlushed by @shrutihaasanhttps://t.co/7Xsg7I4vh5

- Madhan Karky (@madhankarky) October 14, 2016
A good video.. Must watch for guys and gals.. #BeTheBitch with @shrutihaasan - https://t.co/DRGMRp7PIl

- Ramesh Bala (@rameshlaus) October 13, 2016
Bitch is a verbal eyeroll you make to classify any woman who is not your cup of tea just because she refuses to... https://t.co/6l1pfTKhr7

- Shreyasee Joshi (@shreyaseejoshi) October 14, 2016
Love this video your narration and the voice spectacular @shrutihaasan proud to be a fan of yours any day https://t.co/zUdUuO1Mjb

- Ezhi (@Ezhilan_Ezhi) October 13, 2016
Watch the video below:
(Viewer discretion advised. Some contents of this video may be unsuitable for children.)