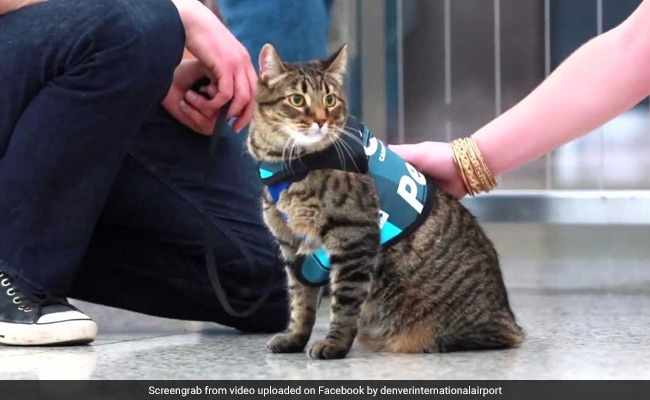 Highlights
Canine Airport Therapy Squad is a dog squad to relieve travelling stress
Xeli is the first cat to enter the all-dogs league at Denver Airport
Xeli is a registered therapy cat and loves meeting people
Denver International Airport's Canine Airport Therapy Squad, or CATS, now has an actual cat! Xeli is the first cat to join the all-dogs league as a therapy kitten to greet travellers. The CATS program is designed to help relieve travelling stress and anxiety, and going by pictures of Xeli's debut at the airport, she is already a pro at it.
According to
local reports
, Xeli is a domestic short hair who weighs about 5 kgs and loves meeting new people. She is also a registered therapy cat.
On September 29, Denver International Airport released a video introducing Xeli to the world that has been viewed over 26,000 times on Facebook.
"I adore the CATS dogs and can't wait to meet the cat! Maybe I'll meet her on the shuttle, just like I've met her team members!" writes one commenter on the video. "'Why were you late for your flight?' I was petting the therapy animals leave me alone," jokes another.
Xeli will officially join the workforce on October 13.
Click for more
trending news