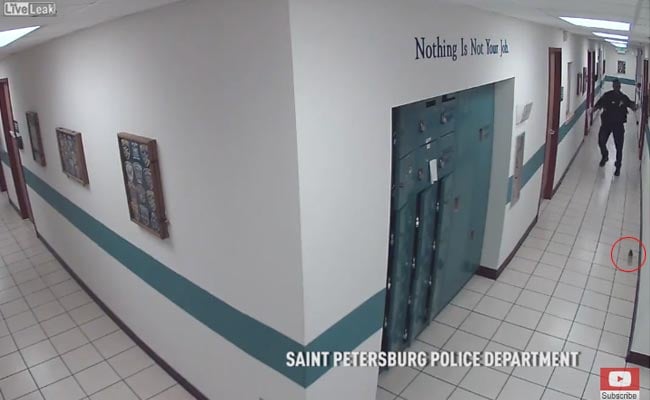 NEW DELHI:
It's like a David vs Goliath situation - only funnier. A video circulating online shows the exact moment a policeman comes face to face with a teeny-tiny rat. Footage from a CCTV camera at the St Petersburg Police Department, Florida, shows the cop freaking out after spotting the rodent.
The minute long clip shows the officer finishing up some work and casually strolling down a corridor at the police department. Suddenly, a rat comes dashing into the corridor, as if it were charging straight towards the officer. It's the cop's reaction at this exact moment that's making several people laugh out loud.
Right after the rat dashes towards him, the policeman runs in the opposite direction, as far away from the rodent as possible. If you look at the video closely, it's clear the cop is as scared of the rat as it is of the man in the uniform.
The rat eventually runs into one of the rooms while the cop looks on wondering where it went.
The video makes for quite an entertaining watch. Take a look:
Tell us what you think about the video in the comments section below.