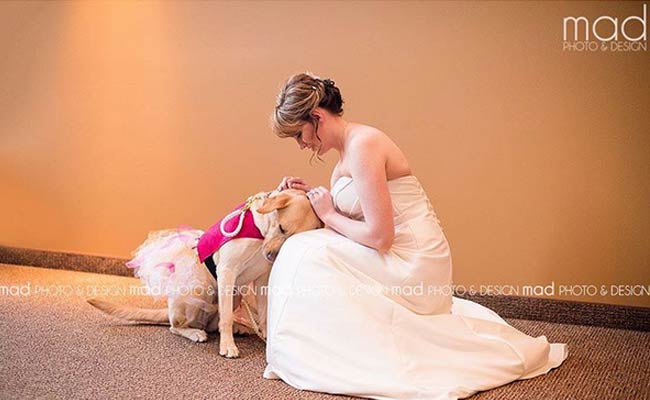 Chicago:
A 3-year-old service pup in the US has fulfilled the adage that a dog is a 'man's best friend' when she came to the aid of her anxiety-prone owner on her wedding day.
Bella, a yellow Labrador, melted the hearts of many when a photo emerged of her with her owner on Reddit, an aggregating social media site.
The pup is specially trained to help Valerie Parrott of Sioux Falls, South Dakota, cope with anxiety.
On Parrott's wedding last weekend, her loyal pup was right by her side to help calm her down.
Parrott also suffers from frequent migraines that affect her daily life. Two years ago, she was matched with Bella, who stays vigilantly by her side.
"Bella actually picked me," Parrott said. While she visited an Animal Psychology Center to pick out a service dog, Bella come out of her kennel and moved a puppy out of the way as if to claim Parrott.
"We've been inseparable ever since," she said. Parrott writes about her experiences to help others understand more about panic disorders and service animals.
"Ever since I was paired with Bella and entered the world of service dogs, I have wanted to make a positive impact on our community," she told CNN.
"Bella's medical alert title refers to her ability to predict and inform me of different type of body changes," Parrott writes on her blog.
"Such as rapid heart beat that may lead to more serious issues such as panic attacks, dizzy spells and other issues involved with my medical condition."
Bella alerts Parrott of an upcoming panic attack by nudging her nose or licking her hand.
"Usually, her warning is all I need to get to a safe place or to take action to prevent a panic attack."
Weddings can cause enough stress on anyone, let only someone who suffers from anxiety.
"A lot of girls experience their first panic attack leading up to weddings," she blogged. "A lot of girls with these disorders double their number of normal panic attacks."
"I think it's possible people don't realise that while Bella was an adorable part of the wedding," said Maddie Peschong, photographer and owner of Mad Photo & Design.
"She was definitely there to work," she said.
Dressed in a pink tutu, the pooch even had her own moment down the aisle, as she was the flower girl.
The photo has helped bring attention to service dogs and the role they play in their owners' lives.