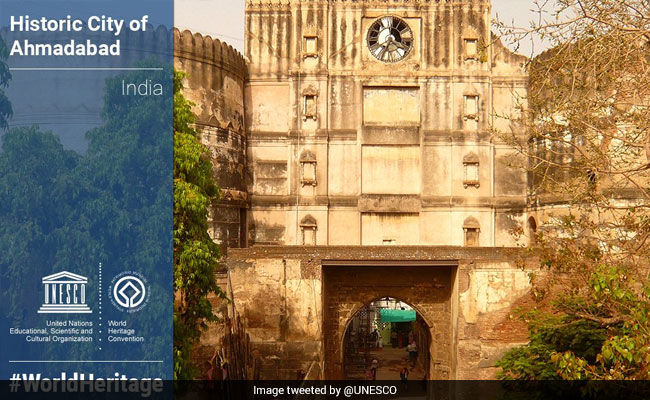 Prime Minister Narendra Modi called
Ahmedabad's inclusion
in UNESCO's list of world heritage cities a matter of 'immense joy for India' in a tweet written about 4 hours ago.
A matter of immense joy for India! https://t.co/qtCOxm8Kga

- Narendra Modi (@narendramodi) July 9, 2017
UNESCO declared Ahmedabad a world heritage city - the first of its kind in India - last night.
Just inscribed as @UNESCO#WorldHeritage Site: Historic City of Ahmadabad #Indiahttps://t.co/ztbb8RIMiZ#41whcpic.twitter.com/iRIMoQfAtK

- UNESCO (@UNESCO) July 8, 2017
Among those who expressed delight at its inclusion were Gujarat Chief Minister Vijay Rupani and BJP president Amit Shah.
Delighted to know that @UNESCO has declared Ahmedabad as World Heritage City. Proud moment for every Indian. #WorldHeritageAhmedabadhttps://t.co/rmWTr4sSBm

- Amit Shah (@AmitShah) July 8, 2017
Thrilled to learn that Ahmedabad has been recognised as a UNESCO #WorldHeritage city, first of its kind in India. https://t.co/cU5dkmumnK

- Vijay Rupani (@vijayrupanibjp) July 8, 2017
The walled city of Ahmedabad, believed to be founded by Ahmed Shah some six hundred years earlier, has 26 ASI-protected structures, hundreds of 'pols' that capture the essence of community living, and numerous sites associated with Mahatma Gandhi who lived in the city from 1915 to 1930.
It now joins the ranks of the Vatican City, Venice, Istanbul, Amsterdam, Bordeaux and Berlin, among others, as a world heritage city.
Various dailies highlighted Ahmedabad's inclusion in the list:
English newspapers highlight the @UNESCO World Heritage City status acquired by #Ahmedabadpic.twitter.com/Qx3TOx4tDQ

- CMO Gujarat (@CMOGuj) July 9, 2017
#Ahmedabad, India's first @UNESCO World Heritage City takes centre place on the pages of Gujarati dailies pic.twitter.com/l13JrjdJNS

- CMO Gujarat (@CMOGuj) July 9, 2017
(With PTI Inputs)
Click for more
trending news