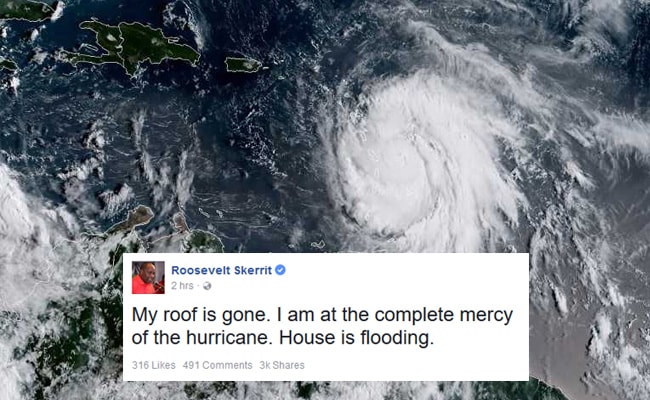 Hurricane Maria strengthened into a "potentially catastrophic" Category 5 storm as it barrelled into eastern Caribbean islands still reeling from Hurricane Irma, forcing residents to evacuate in powerful winds and lashing rain. Caught up in the storm was Roosevelt Skerrit, the prime minister of the tiny Caribbean island nation Dominica. Mr Skerrit took to Facebook to post real-time updates of the storm as it made landfall on Monday night.
Mr Skerrit confirmed on his official Facebook page that he had been rescued after the hurricane flooded his home and tore off its roof. He posted a series of harrowing live updates on Facebook.
"The winds are merciless! We shall survive by the grace of God," Mr Skerrit wrote approximately four hours ago. "Rough! Rough! Rough!" he wrote, minutes later.
"My roof is gone. I am at the complete mercy of the hurricane. House is flooding," came the next update. Moments later, Dominica's Prime Minister wrote he had been rescued.
The maximum-strength storm packed winds of 160 miles, or approximately 260 kilometers, per hour as it bore down on Dominica, according to the US National Hurricane Center.
#Maria made landfall on Dominica at 915 pm AST as a category 5 #hurricane with 160 mph (260 km/h) winds https://t.co/QSxq7VPr15? pic.twitter.com/3Z1Q95WYlM

— NHC Atlantic Ops (@NHC_Atlantic) September 19, 2017
Hurricane Maria menaced Caribbean islands already hard-hit by Hurricane Irma.
Irma, a Category 5 hurricane, broke weather records when it whipped up winds of 295 kilometres per hour for more than 33 hours straight.
Another hurricane, Jose, is also active in the Atlantic and has triggered tropical storm warnings for the northeastern United States.
Many scientists are convinced that megastorms such as Irma, and Harvey before it, are intensified by the greater energy they can draw from oceans that are warming as a result of climate change.
(With inputs from AFP)
Click for more
trending news