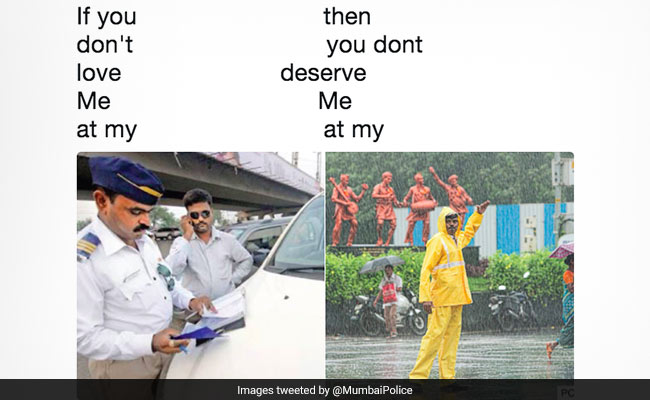 Mumbai Police has proved yet again that their Twitter game is totally on point - this time with a masterstroke in the form of a new tweet. The official handle recently posted their version of the now-famous
'If you don't love me at my worst, you don't deserve me at my best' meme
. Posted just three hours before writing this, the tweet has collected over 6,600 'likes' and more than 2,900 retweets - and still counting.
For the uninitiated, the
'If you don't love me' meme
comprises two pictures to show a transformation of sorts. The quote used with the images is often misattributed to Marilyn Monroe. The meme has taken over the Internet and
Mumbai Police
, known for their amazing and on-point tweets on all things topical, hopped on the bandwagon.
Here's what Mumbai Police has tweeted:
If you then
don't you dont
love deserve Me Me
at my at my pic.twitter.com/XUaxxTdfuv

- Mumbai Police (@MumbaiPolice) April 9, 2018
Like we said... masterstroke!
Along with all the 'likes' and retweets, the meme has collected quite a few reactions.
"Whoever is making these deserves a raise," says one Twitter user. "Memebai police," says another.
Just days ago, a version of the meme featuring actress Mindy Kaling was noticed by, who else, Mindy herself. She had the most epic response to being meme-ified.
if you then
don't you dont
love me deserve me
at my at my pic.twitter.com/uxSfuH3Bx2

- Ishita Yadav (@IshitaYadav) April 6, 2018
I don't get this, I'm equally pretty in both https://t.co/JBZIEnrfTu

- Mindy Kaling (@mindykaling) April 6, 2018
Tell us what you think of the memes in the comments section.Click for more
trending news