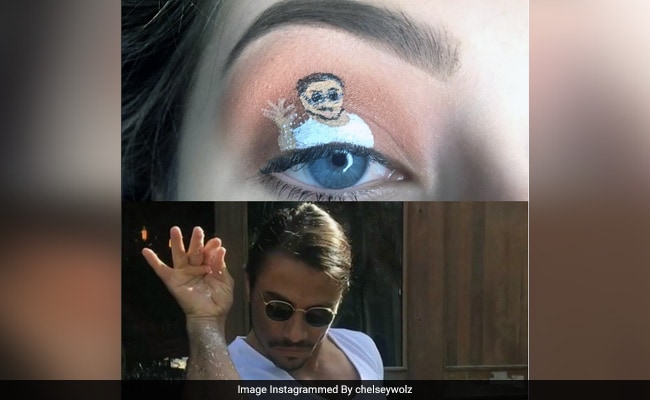 New Delhi:
Love memes? Love makeup? Then this new trend is tailor-made especially for you. Meme-based makeup looks are currently taking over everyone's social media feeds - from Twitter to Instagram - and yes, they are exactly as bizarre as they sound. From American reality TV star Kim Kardashian's infamous ugly-crying face to "Salt Bae" and even the large-eyed purple pigeon better known "trash dove," beauty bloggers and makeup artists are taking inspiration from viral memes and turning them into works of art on their eyelids.
Here are 5 of the strangest, and funniest, meme-based makeup looks:
1. Presenting Salt Bae (as Instagram-famous Turkish chef Nusret Gokce is better known on the world wide web). You may remember him from the viral video where he flamboyantly sprinkled salt on a carved steak
2. Forget all the GIFs and memes you've seen, Kim Kardashian's crying face is now a makeup masterpiece. What a time to be alive
3. From a set of Facebook stickers featuring a large-eyed purple pigeon to this - trash dove sure has come a long way
4. Arthur's Fist is a meme featuring a close up of a popular cartoon character's clinched fist, and accompanied by captions describing frustrating circumstances. Actually, that accurately describes the reaction most of us had to this strange makeup trend
5. Evil Kermit the Frog made her do it. That Muppet has some explaining to do
Me: don't contribute to the meme makeup trend
Inner Me: do it pic.twitter.com/W3rrUkugak

— nia (@niasmakeup) March 15, 2017
Click
here for more trending stories
.