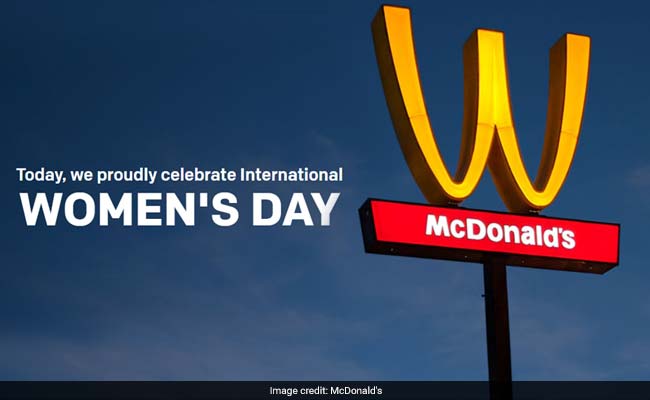 On International Women's Day, fast-food chain McDonald's has turned its iconic golden arches sign upside down as a "celebration of women everywhere." The move has sparked debate on social media, however, with some calling it a "cheap PR stunt." March 8 is celebrated around the world as International Women's Day. According to its official website,
International Women's Day
"is a global day celebrating the social, economic, cultural and political achievements of women. The day also marks a call to action for accelerating gender parity."
"In celebration of women everywhere, and for the first time in our brand history, we flipped our iconic arches for International Women's Day on March 8 in honor of the extraordinary accomplishments of women everywhere and especially in our restaurants," says McDonald's Global Chief Diversity Officer Wendy Lewis in a
statement to the press
.
But according to
CNN
, the arches have been physically flipped only at one location in the United States and will be digitally flipped on McDonald's social media platforms.
The move has had some netizens rolling their eyes at what they call "corporate feminism."
"Yeah, because flipping your logo upside down is really gonna solve women inequality... pointless," comments one person. "From what I understand it's just meant to celebrate women, not solve inequality... It's a nice idea, but really, as you said, pointless," comments another.
Hey @McDonalds, maybe instead of a cheap PR stunt where you make the M a W to "support" women, you do something real - like paying your workers a living wage. https://t.co/xoOHRvSQdx

— Nate Lerner (@NathanLerner) March 7, 2018
McDonalds: In celebration of women we are flipping the arches upside down.

Or you could give your employees better benefits.

McD: Look it's a W!

Maybe a living wage? Better family leave? A career path forward in the face of automation?



McD: The W stands for women.— bogwolf (@truebe) March 7, 2018
If @McDonalds actually cares about women-how bout:
Paying a livable wage
Providing healthcare to your employees
Hiring Women/minorities in leadership. (Women/Munorities are 70% of your employees but only 35% of your exec team)

A mere "W?"

Sorry, Im not exactly "lovin it" https://t.co/4FEqNahL0w

— Qasim Rashid, Esq. (@MuslimIQ) March 8, 2018
Good for McDonalds and their women workers who thought of this. It's a start.

— Celtica (@Celticacakes) March 8, 2018
@McDonalds Thank you for flipping the "M" to a "W" for women's day, finally a relief from 364 days of "M" men's day

— Lucas Dimyan (@lucasdimyan) March 7, 2018
mcdonalds may have flipped its logo to "celebrate" women but i won't be impressed until they serve pink big macs!

— Taylor Trudon (@taylortrudon) March 7, 2018
McDonald's is far from the only company to tweak its logo as a part of a female-friendly marketing effort ahead of Women's Day.
This month, Diageo - the world's largest spirits company - launched a limited edition Johnnie Walker Black Label Scotch in the United States. Called
Jane Walker
, the bottle does not feature Johnnie but a striding, top-hatted woman named Jane instead.
In February, PepsiCo was ridiculed after its CEO Indra Nooyi said it was preparing to launch a "
low crunch
" line of chips, because women "don't like to crunch too loudly in public."Click for more
trending news