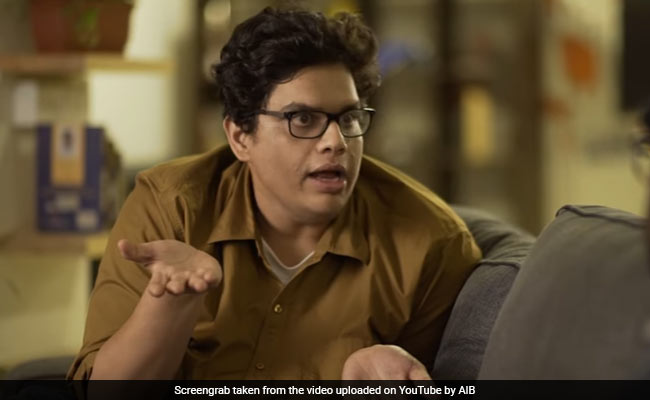 New Delhi:
Depression manifests itself differently for different people. Some have visible highs and lows, others have debilitating depression, some have functional days but many others never do. What all people who experience depression share, however, is the right to be treated as people dealing with a serious medical illness. And that's where comedy collective AIB's latest offering comes in.
In a video that has gone viral on social media, AIB quite simply asks, what would happen if people treated other illnesses the way they treat depression. The results are often laugh-out-loud funny, and ultimately thought-provoking and poignant.
The video opens with a man calling a friend to make plans to catch a late-night movie. His friend says he has been vomiting and had a high fever all day. "I think I have typhoid or something," he says. The man laughs off his fears. "Typhoid?...You just need to get out and have some fun."
Cut to a montage of more unhelpful suggestions from well-meaning friends and relatives:
"Typhoid is just a phase."
"Either you're smiling or you have typhoid - how can you have both?"
"Are you sure you didn't get typhoid because Garima broke up with you?"
Now just substitute the word depression for typhoid and see what happens.
In less than 24 hours of being uploaded, the video has viewed over 319,000 times on YouTube and over 244,000 times on Facebook.
AIB's message has resonated with many. A number of mental health professionals commented saying they found the video an effective way to normalise mental health:
@AllIndiaBakchod As a mental health professional I found the video to be very useful. Depression is not a phase. Seek proper help people.

— Rijuta Tyagi (@rijutatyagi) April 11, 2017
Many others agreed
​
@AllIndiaBakchod "Stop overthinking, You just need to have fun" aren't appropriate solutions to depressive symptoms.Thank you for making such info explicit !

— Smriti Sangam (@SmritiSangam) April 11, 2017
And many wanted people to continue the dialogue
On April 4,
24-year-old Arjun Bhardwaj
, an engineering student, committed suicide by jumping off the 19th floor of the Taj Land's End Hotel in Mumbai. His death sparked a much-needed conversation about mental health, with several comedians coming forward to discuss their own struggles with depression and offering advice to anyone suffering from it.
Depression is often made worse by the insensitive ways in which people respond to it. "
Log kya kahengay
" (what will people say) is a sentiment that prevents people dealing with the condition or their families and friends from talking about openly.
For well-meaning family and friends wanting to support a person dealing with depression, adopting attitudes shown in AIB's video can end up being quite harmful.
So, listen when someone wants to talk. Educate yourself. And reach out for help if you need it.
Click
here for more trending stories
.