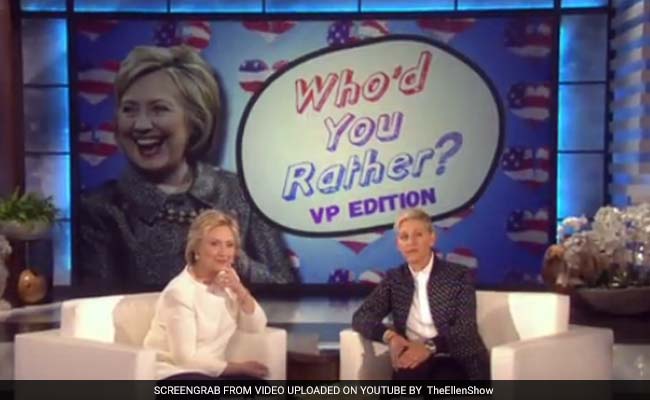 Highlights
Ellen played "Who'd you rather?" with Hillary Clinton on her show
Celebrity frontrunners for position of Vice-President to possible POTUS
Hillary mentions about Beyonce's song Lemonade
Beyonce - or perhaps Michelle Obama could be your next Vice President, America, should you vote Hillary Clinton in.
Ms Clinton, the Democrat candidate for the next President of the United States, has failed to pick a running mate so far but was helped out by talk show host Ellen DeGeneres.
Ellen played a game of "Who'd you rather?" with Ms Clinton on her show on May 24 and offered up a list of potential veeps to choose from.
Options included Tony Goldwyn (the actor who plays POTUS on hit show Scandal), George Clooney (cause for pause there), Mark Zuckerberg (ditto), Leonardo DiCaprio, current veep Joe Biden, Ms Clinton's political rival Bernie Sanders (he's a definite no), the viralworthy Chewbacca mom and the Clintons' daughter Chelsea. And also Ellen herself - but that didn't fly.
Here's what did. The frontrunners for position of Vice-President to possible POTUS Clinton are: Beyonce (because Hillary Clinton makes Lemonade when life hands her lemons) and the current FLOTUS (because Mrs Obama would be just great).
White House, you watching this?