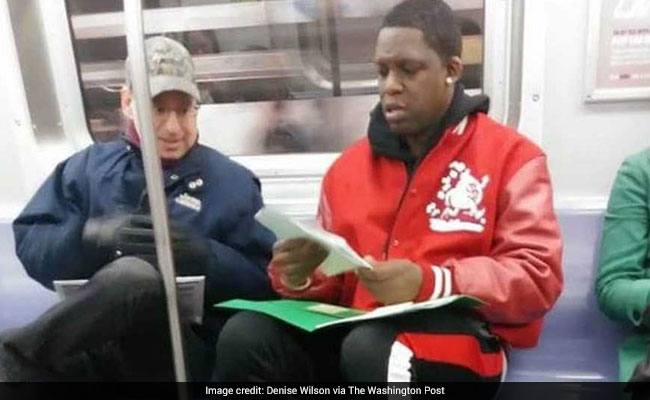 Corey Simmons got on the New York City subway, heading from Manhattan to Brooklyn to pick up his son from his grandmother about two weeks ago.
He knew he needed to open the green folder on his lap, but he hesitated, because inside lay his son's math worksheets that father and son were supposed to complete together. Simmons, 40, was never great at math.
His son, who is in third grade, had just failed a test on fractions. Simmons wasn't sure he remembered the difference between a numerator and a denominator.
He opened the folder and started on a problem, but wasn't sure if he was doing it correctly. That was when a man got on the train and sat next to him.
"He looked like a professor or something," Simmons said. "He looked kind of smart in the books, like he knew something about math."
So Simmons, a clothing designer, started saying out loud that his son had failed a test, hoping to get the attention of the man. Simmons usually keeps to himself on the subway, like everybody else, but he said he needed a hand, and the man looked like he could help.
The man looked up and said, "What did you say?"
"I said, my son failed his test; I haven't done fractions in a long time," Simmons said, gesturing to his worksheet.
The man said to him, "Let me see what you got there."
And so the two grown men started working on third-grade fractions right there on the Q train, talking through the problems so Simmons could go home and teach them to his son.
The moment was captured by Denise Wilson, who was heading home from her retail job and saw the pair doing homework. She posted the photo on Facebook.
"[B]y the end of my train ride the guy in the red had a better understanding he can bring home a new method and teach his child," Wilson, 21, wrote. "I really love seeing [stuff] like this especially in New York," where she said people sometimes don't seem to care about each other.
After Wilson posted on Facebook, a relative of Simmons' saw it and reached out to her. But they still haven't found the math tutor.
"He's a mystery," Wilson said. "Maybe he doesn't have social media."
Wilson, who has a 1-year-old, said she snapped the picture because seeing them "warmed my heart."
"I was like, wow, to be a dad and help his child and put his pride aside and learn from a complete stranger on the train, it was so cool," she said.
Simmons said he didn't mind checking his ego to help his son.
"You have to ask questions to get information. I'm not shy or ashamed to ask," he said. "I was letting him know 'I need help, you know, your assistance would be great here on the train.' "
The ride was about 20 minutes, as the two walked through changing improper fractions to proper fractions and finding lowest common denominators.
"It was good," Simmons said. "We worked out the math."
Simmons, who is a single father and lives in Rutherford, New Jersey, said that as time goes on he doesn't think he'll be able to keep up with his son's math demands, so he wants to sign him up for professional tutoring.
For now, he's just grateful his son learned the basics of fractions. Today, his son is retaking the quiz he failed earlier this month.
"He's going to knock it out of the park," Simmons said.
(Except for the headline, this story has not been edited by NDTV staff and is published from a syndicated feed.)
Click for more
trending news