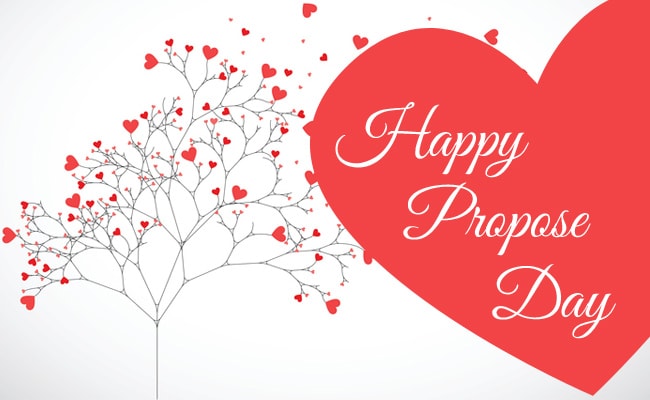 Now that
Rose Day
is over, it is time to get on with the
Valentine Week
- and also get a step closer to February 14, the day of love. The second day of the Valentine Week is marked by Propose Day - the perfect day to tell someone you love how you feel about them. Telling someone you like them or that you would like them to be an important part of your life can be a daunting task. However, this day is tailor made for people to finally share their feelings. You can say it with a chocolate,
a flower
, a meaningful gift or even a ring if that is what you want. You can be as flamboyant or as understated as you think best. But just remember that while the day is a celebration of love and all about expressing yourself, it is important to be respectful of the other person's feelings.
Every year Propose Day falls on February 8. It is followed by Chocolate Day, Teddy Day, Promise Day, Hug Day, Kiss Day and finally, Valentine's Day when love is all around us.
It's Valentine week and we've rounded up some thoughtful wishes, SMSes, quotes, images and WhatsApp messages to send out this Propose Day:
What greater feeling is there than that of two human souls that feel they are joined? And what better day than today to seal their bond... Happy Propose Day!
All I wanted was someone to care for me,
All I wanted was someone who'd b there for me,
All I ever wanted was someone who'd b true,
All I ever wanted was someone like You!
Happy Propose Day!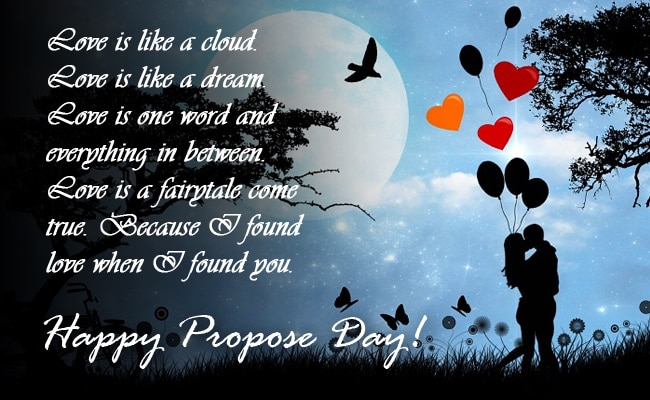 There are many love stories in this world, but ours is the sweetest. It is sweet because you are in the love story. Will you be with me forever?
Love is like a cloud. Love is like a dream. Love is one word and everything in between. Love is a fairytale come true. Because I found love when I found you.
Happy Propose Day!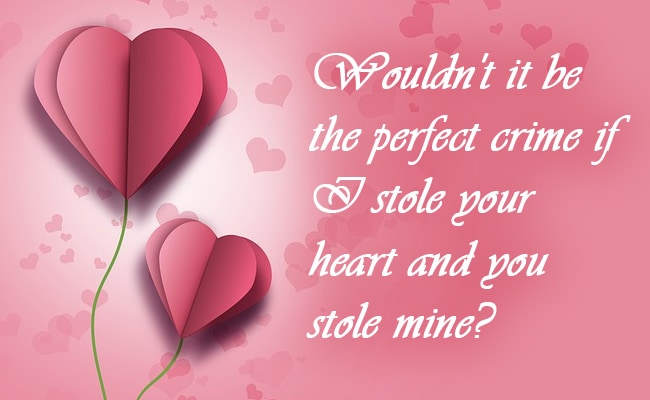 Did you know they changed the alphabet?
They put 'U' and 'I' together.
Happy Propose Day, my love!
I can't imagine my life without you in it. I want to grow old with you. Will you do me the honour of spending the rest of your life with me?
I still remember the moment when our eyes met for the first time. I felt butterflies in my stomach and since then my heart longs to be with you always. Be mine forever!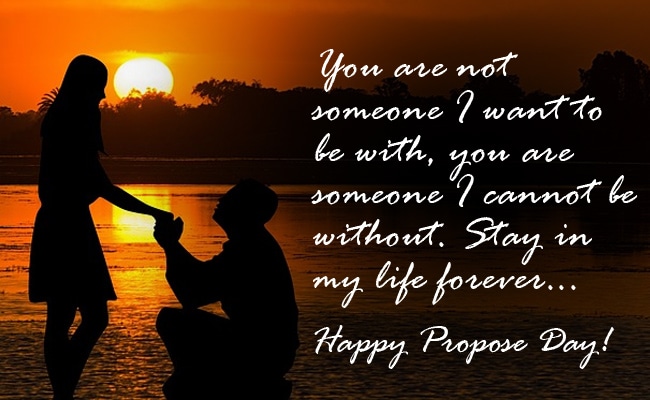 Life is about all the roads we take, some smooth, some rough. Will you travel with me no matter what road we travel? If you are with me, all the roads are smooth. Happy Propose Day!
I love you for not what you are but what I become when I am there with you.
Will you be with me forever?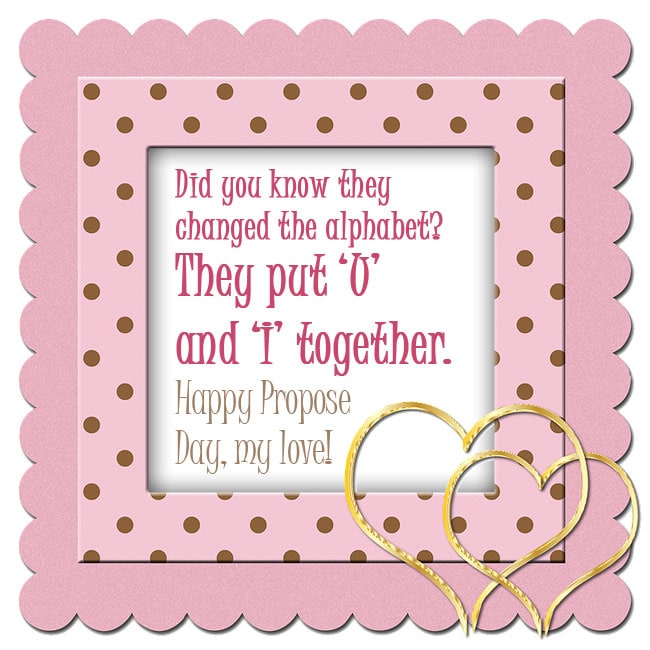 You are not someone I want to be with, you are someone I cannot be without. Stay in my life forever...
Happy Propose Day!
Wouldn't it be the perfect crime if I stole your heart and you stole mine? Happy Propose Day!Click for more
trending news