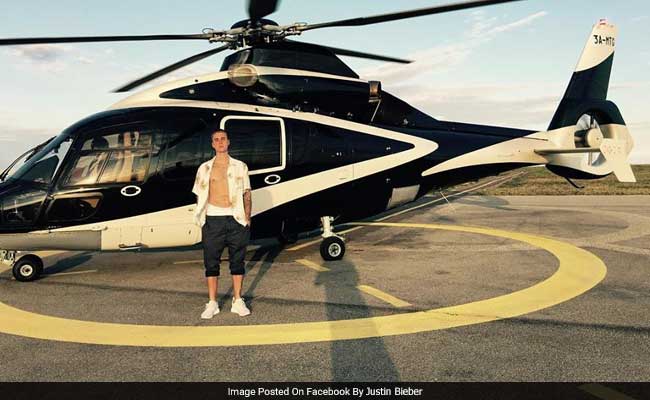 New Delhi:
Whether you're a 'Belieber' or not, you've probably heard that pop superstar Justin Bieber is coming to India. The Canadian singer and songwriter will perform at Mumbai's DY Patil Stadium on May 10 as a part of his 'Purpose World Tour.' The Internet went into meltdown mode when it was reported that VVIP tickets for the concert were going for
a whopping Rs. 76,790
. Expect meltdown 2.0 because the concert's organisers, White Fox India, just confirmed the un'belieb'able list of demands the 23-year-old singer has.
Now it's not unusual to hear about riders - those little perks that a musician receives from the promoter of a gig. Usually, they include specific food and drinks in their dressing room. From a Jacuzzi backstage, 12 white handkerchiefs, a very precise list of snacks and treats and even a washing machine and fridge - Team Bieber's list of demands is really something else.
During his time in India, a convoy of 10 luxury sedans and 2 buses will be at Bieber's disposal. He himself will travel around in a Rolls Royce. Oh, he's travelling with an entourage of about 120 people.
The concert's promoters have also kept a private jet and chopper on stand-by for Bieber. Guess he got the memo about Mumbai's unpredictable traffic because the singer will be flying into DY Patil Stadium on a chopper. How's that for a grand entrance?
If you were expecting the pop superstar to be a light traveller - you're oh-so wrong. A whopping 10 containers will be flown in with essential items including a ping-pong table, a Playstation, a hoverboard, and even a sofa set, washing machine, refrigerator, upholstery and wardrobe cupboard.
There will also be a Jacuzzi for the Biebs to use backstage before he hits the stage. As well as a massage table and licensed female masseuse - flown in all the way from Kerala. Umm.
Two 5-star hotels have been reserved for the singer and his 120-strong entourage. An elevator has been blocked out for four days for Bieber's own use.
According to the concert's organisers, a "special Indian Yoga Casket (sic)" containing essential oils, incense sticks as well as books on chakras and yoga asanas will be placed in Bieber's suite. Turns out he's quite the Yogi.
His 1,000 square foot hotel suite will be redesigned to include Mughal paintings, antique furniture and signature bedroom linen. Fresh flowers, including his favourite purple carnations, will fill the room. But the hotel has been warned - there shouldn't be a lily in sight! His room will also include, at his special request, a hundred hangers, cans of wild-berries and vanilla room fresheners, Dove body wash and hydrating lip balm.
And here are the rest of his demands:
- Gourmet chefs to prepare five dishes a day. They're reportedly going to be renamed after his hit songs.
- Easy access to treats and snacks including - vegetables seasoned with ranch sauce, seedless grapes, white cheddar popcorn, white sliced bread, mint and watermelon gum, organic dried fruit and nuts and multiple packs of Haribo Cola Gummies.
- Bieber has asked that his personal dressing room be draped in white curtains and include, among other things, 24 still water bottles, 24 alkaline water bottles, 4 energy drinks, 6 vitamin water bottles. It is important to always remain hydrated.
- Two packages of plain white crew-neck t-shirts (in sizes XS and L), white tank tops and socks in the dressing room
In case you were hoping for a sneak peek backstage, sorry to disappoint but Bieber has a strict non-negotiable clause of no cell phones backstage. Guests aren't allowed to "speak to talent" either.
Justin, for that ridiculously long list, it's not too late to say sorry.
Click
here for more trending stories
.