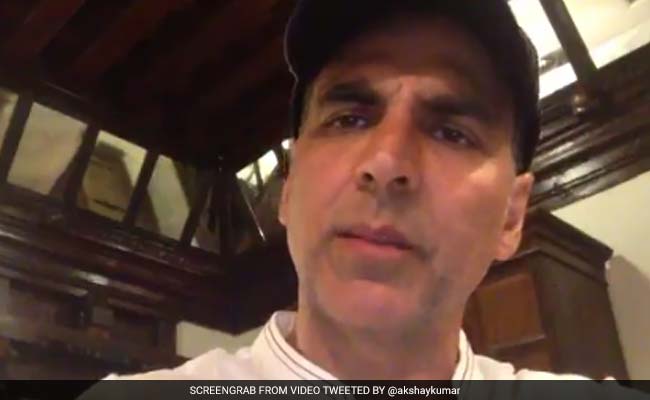 Highlights
Akshay Kumar shared his outrage over molestation of women in Bengaluru
The actor said his 'blood boiled' when he learnt about the molestation
His video has gone viral with over 15,000 'likes' on Twitter
In a video message posted on Twitter, Bollywood star Akshay Kumar has shared his outrage over the molestation of women in Bengaluru on New Year's Eve, comparing the attackers to "beasts".
"Truly shameful," tweeted the 49-year-old actor, a father of two including a daughter.
"The Bangalore incident makes me feel we are evolving backwards, from humans to animals, rather beasts because even animals are better!"
The video has gone viral with over 15,000 'likes' and more than 7,000 retweets on Twitter.
The actor said his "blood boiled" when he learnt about the molestation.
"I am ashamed to be a human being today. I was returning from my New Year's vacation with my four-year-old daughter in my arms when I learnt about the molestation incident in Bangalore. I don't know how did you all feel about it, but my blood started boiling. I am a daughter's father but even if I was not one, I feel if a society cannot respect its women, it doesn't deserve to be called a humane society," he said.
Most disgusting, he added, was that "people have the guts to justify such shameful acts by criticising women for their choice of clothes." He advised that women should not consider themselves inferior to men, "just be fearless, be alert and learn self-defence."
The Bangalore incident makes me feel we r evolving backwards,from humans to animals,rather beasts coz even animals are better!Truly shameful pic.twitter.com/FJwJ80Mkby

- Akshay Kumar (@akshaykumar) January 5, 2017
Several people have praised Akshay's message on Twitter.
Respect!
All girls MUST learn some form of self defence! Be strong, Be independent! https://t.co/JofQZII4L2

- Kriti Sanon (@kritisanon) January 5, 2017
@akshaykumar your self defense academies for women shows how concerned you are about women's safety ..so proud of you

- Harshi (@_KhiladiGirlx) January 5, 2017
@akshaykumar salute you sir. Appeal the nation to stand against such acts strongly and punishment such animals which

- Kuldeep Rathore (@kuldeeprathor9) January 5, 2017
@akshaykumar So so proud of you, In this wicked world still there are few ppl like you !!!Girls aren't just a " TOY " we also have feelings

- AliyaPriyanka (@PCsCupCake) January 5, 2017
@akshaykumar I love you for this, the humanity in you. The respect you've for women & they actually deserve it but sick people won't get it.

- Akshay's Krutika (@MyAkshayKumar) January 5, 2017
Akshay Kumar is among several Bollywood celebrities to outrage over the incident that has shocked the nation.
"It is sad. We all bear a responsibility and we all must do something about that. I feel very strongly, as a father, as a member of the society, that if something like this is happening in an environment so close to me, then I definitely must be impacted, must be affected and I must do something about it," actor Hrithik Roshan said at an event recently.
Here's what actors Farhan Akhtar, Swara Bhaskar, Richa Chadha and Varun Dhawan tweeted:
Women should not dress like westerners b'coz men dressed like westerners are molesters, says the man in the shirt.#oxy(deprived)morons

- Farhan Akhtar (@FarOutAkhtar) January 3, 2017
In a country divided on caste, religion, language, caste what-u-will lines.. brilliantly everyone agrees on issues gender! #bangalore 1/2

- Swara Bhaskar (@ReallySwara) January 3, 2017
Shameful that law breakers, law makers & law keepers are united in the warped logic tht women invite rape/molestation #bangalore#india 2/2

- Swara Bhaskar (@ReallySwara) January 3, 2017
Women get molested irrespective of what they wear,where they are. Women in India are not safe,EVEN AT HOME. #Bengalurushame

- TheRichaChadha (@RichaChadha_) January 3, 2017
We can't be a superpower if 50% of the population are treated like 2nd class citizens. DISGUSTING. Misogyny must end. #Bengalurushame

- TheRichaChadha (@RichaChadha_) January 3, 2017
Argggh how this angers me.Sir punish the criminals not the victims. Women can wear what they want it's their choice. https://t.co/HSpRjlRq8A

- Varun Dhawan (@Varun_dvn) January 3, 2017
This is what
Dangal
actor Aamir Khan said: