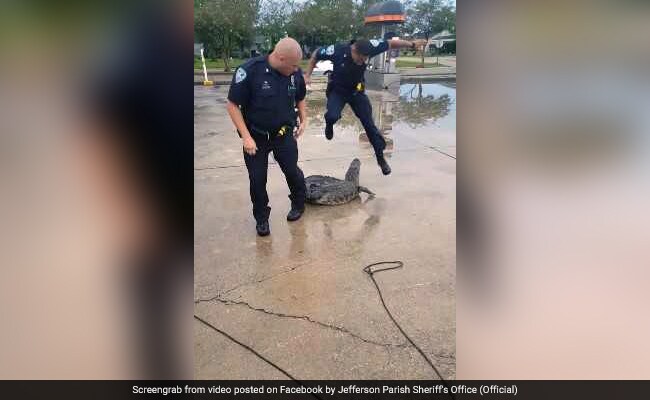 Police personnel may seem like they can handle just about anything but dealing with a reptile can be nerve-wracking for just about anyone. Case in point, this video which shows a police officer's hilarious reaction while dealing with an alligator. Posted by 'Jefferson Parish Sheriff's Office (Official)' on Facebook, the video has received over 7.1 lakh views and more than 15,000 shares since August 25.
"Our deputies respond to all kinds of calls, from crime to gators! Side note, we're not sure if our deputy was screaming like that, but it sure sounded like it, haha," says the post accompanying the video. It shows a Louisiana cop jumping up in surprise while handling a gator. What makes the video funnier is that you can hear a high-pitched scream at the exact same time the cop shoots up in the air.
Several people have posted comments on the video, some explaining that it wasn't the officer who screamed and others asking the cop to clarify who made the sound.
"Officer!! You need to clear your name about that high pitched scream," says one Facebook user. "The person filming screamed, not the deputy that jumped," suggests another.
"I saw it like 20 times and it's still funny," says one commenter on the video. "His mouth is taped but I would have done the same thing," says another.Click for more
trending news