Seeing pictures of these two pairs of newlyweds, you may be forgiven for thinking you're seeing double. A pair of twin brothers tied the knot with a pair of twin sisters in northeastern China's Heilongjiang province. Not only do the two pairs of twins look virtually identical, they even have names that sound pretty similar. The brothers are named Zheng Dashuang and Zheng Xiaoshuang whereas the sisters are named Liang Jing and Liang Qing, reports
Shanghaiist
.
The two pairs of twins married in a joint wedding ceremony in the city of Daqing on December 3. Pictures and video posted on social media in China show both sets of twins dressed in identical outfits. They took the concept of "twinning" quite seriously.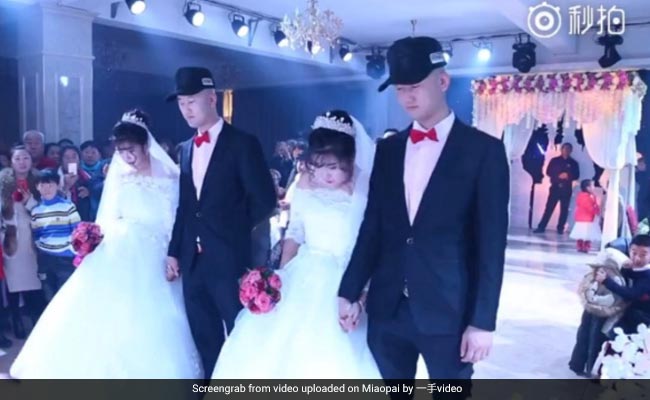 The 23-year-old sisters wore sweeping white gowns, veils and carried matching bouquets of pink flowers.
Meanwhile, the 26-year-old brothers wore black tuxedos with matching red bow ties. The grooms also added identical black basketball hats for a little more flair.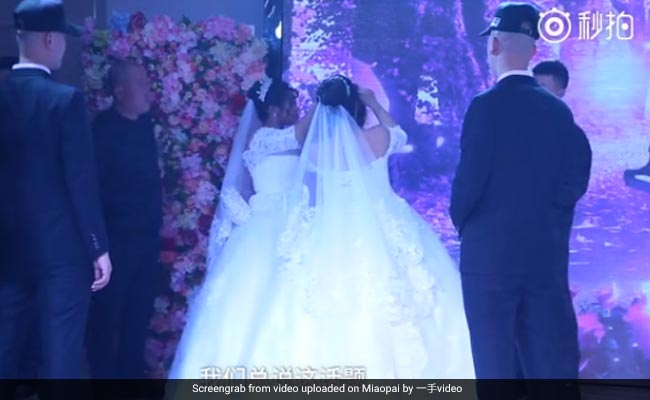 People's Daily China
reports that the brides' and grooms' fathers are business partners and the two families have been friends for nearly a decade, according to the Shanghaiist.
It didn't take long for the mothers on both sides to play matchmaker.
Watch glimpses from their wedding ceremony below:
To check out more footage from their wedding ceremony
click here
.
This isn't the first time pictures and videos from a wedding ceremony featuring two pairs of twins have gone viral.
Two years ago,
two twin sisters from Kerala's Idukki district married a set of twin brothers
. That wedding ceremony was presided over by twin priests and attended by twin flower girls and twin page boys. Whew! Click for more
trending news
Get Breaking news, live coverage, and Latest News from India and around the world on NDTV.com. Catch all the Live TV action on NDTV 24x7 and NDTV India. Like us on Facebook or follow us on Twitter and Instagram for latest news and live news updates.