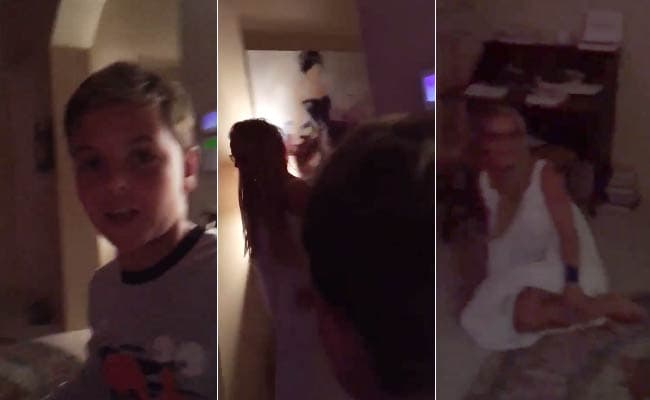 Highlights
The prank was conducted by Britney's sons Sean Preston and Jayden James
'My damn kids,' the singer wrote on Twitter and Instagram
The video has received over 18,000 'likes' on Twitter
There's more than a month to go for Halloween but the holiday seemed to have come sooner in Britney Spears' household.
A video shared by the pop icon on Thursday shows Britney jumping in fright after her sons Sean Preston Federline, 11, and Jayden James Federline, 10, pranked her in their house. "My damn kids," the singer wrote on Twitter and Instagram.
The video shows Sean Preston looking into the camera, explaining the plan while his younger brother Jayden James held their mother's phone to record the moment.
"We're about to scare the heck out of mom," he says. "We just stole her phone and she's going to go nuts."
Seconds later Britney, wearing a white dress and spectacles, walks in and that's when the boys scream on top of their voices. Poor Britney's so scared, she actually falls down. You can hear one of the kids chuckle after the prank.
The video has received almost 9,000 retweets and over 18,000 'likes' on Twitter. On Instagram, the video has scored over seven lakh views.
"Freaking hilarious, Sean Preston is the man," says one commenter on Twitter. "I wonder what she did to them when she approached them," said another on Instagram.
Take a look at the video below:
My damn kids pic.twitter.com/YNVWlo1jOH

- Britney Spears (@britneyspears) September 22, 2016