Bengaluru:
Highlights
He lost his left forearm after a crocodile attacked him in a lake
He entered a restricted forest area near Bengaluru without permission
Mudit Dandwate is the CEO of health startup Dozee
A young entrepreneur working in Bengaluru is recovering in hospital after part of his arm was bitten off by a crocodile in a lake on the outskirts of the city. The Thattekere Lake is in a forested area.
Mudit Dandwate, a 26-year-old IIT graduate, managed to survive a crocodile attack but lost his left forearm on Sunday. According to what the injured man told the doctors, Mr Dandwate was visiting a temple in Ramanagaram district and was walking there after getting out of his car along with a friend and his two dogs. The dogs scampered off into the water, with Mr Dandwate following, when the crocodile attacked.
The bleeding man was rushed to a local hospital and then to Hosmat hospital in the city.
Mr Dandwate's left forearm was torn off by the crocodile just below the elbow. "Since the crocodile may have eaten that part there was no possibility of reattachment," the Medical Director of Hosmat hospital, Dr Ajith Benedict Rayan, told NDTV. "The patient is in the operating theatre where further cleaning of the wound, known as debridement, is being done."
"His condition is stabilised and he is now out of the ICU and in a ward," Dr Rayan added.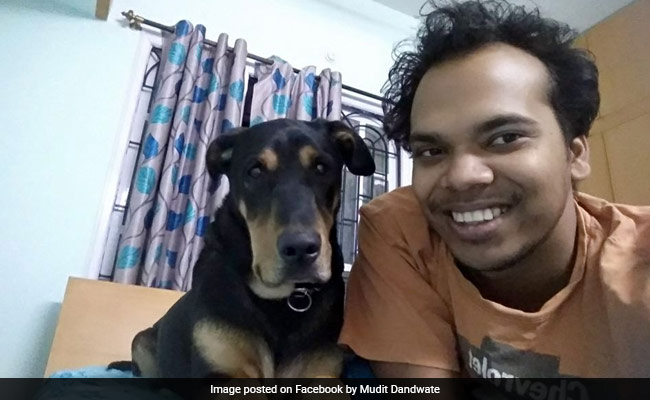 Mr Dandwate reportedly told friends that in his hurry to get the dogs out of the water, he did not see any signs warning against crocodiles in the water.
The Ramanagaram Superintendent of Police, B Ramesh, told NDTV, that while no complaint had been made against him by anyone, but they had registered a case on their own as Mr Dandwate entered a restricted forest area without permission. Click for more
trending news
Get Breaking news, live coverage, and Latest News from India and around the world on NDTV.com. Catch all the Live TV action on NDTV 24x7 and NDTV India. Like us on Facebook or follow us on Twitter and Instagram for latest news and live news updates.