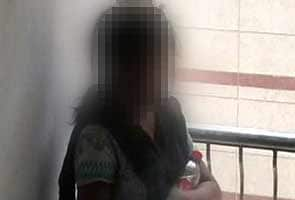 Noida:
A software engineer living in Noida on the outskirts of Delhi has been detained for allegedly torturing her 14-year old domestic help.
Meenakshi Bharadwaj has been accused of beating her maid with leather belts and sticks and forcibly locking her indoors.
When questioned about the injuries on the girl she said, "That's not much; she just got a little burnt while making French fries."
In her police complaint, the girl who comes from Jharkhand, has alleged that Mrs Bharadwaj and her husband would not let her step out of their home and often beat her, even more when she tried to escape.
On Saturday, the girl finally managed to sneak out of the house and was taken to the local police station with the help of the security guards of the colony.
"She looked very scared and had bruises all over. So I just helped her reach the nearest police station," explained Shamim, the guard who took her to there.
Police say the medical reports on the girl confirm that she has been tortured and has burn injuries on her neck and back.
The police are now looking to question the placement agency and the woman who brought the girl to Delhi a year ago with the promise of a job. They are also looking at rehabilitating her and informing her family in Jharkhand