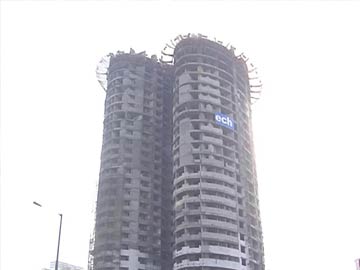 Greater Noida:
Lakhs of flat buyers of Noida Extension are concerned over the news of the Allahabad High Court order to demolish the two towers of Supertech's Emerald Court in Sector 93A in Noida as they fear similar orders may come for Noida Extension builders too.
All these builders have also got their revised building plan approved under purchasable FAR scheme of the authority without getting the consent of allottees.
The Supertech Emerald Court project was launched in 2005 and the verdict came in 2014.
The buyers who have paid 85%-90% of flat cost are a worried lot.
"Now the builder will move the Supreme Court and at least 3-4 years will go in that process and till then he will retain buyer's money," said Shweta Bharti, a representative of Noida Extension Flat Owners Welfare Association.
Noida Extension buyers are afraid a similar thing can be happened with Noida Extension projects also.
"In Noida Extension, almost all the builders have constructed extra towers, what will happen to that?" said Bharti.
"Why did the Noida/Greater Noida Authority not take action on time and save middle class buyers from being trapped? It's clear that there is a nexus between the authority and builders. We have written so many letters to GNIDA in this regard, but GNIDA didn't have time to reply. They are busy in counting money", she said.
She alleged the "main culprit" is the authority which doesn't take any action before such type of verdict comes from the court.
"Almost all the builders are using 3.5 FAR in Noida Extension whereas allowed FAR is only 2.75. Even builders have not applied for FAR to the authority. We are waiting for our homes for the last 5 years but not a single project has been given possession in Noida Extension," said Bharti.
"We hope builders and authority will take lessons from this judgement. But what will happen to 500 flat buyers who booked their flats in the said project. Dreams of their own home ruined. We appeal that officers behind this must be sacked and arrested immediately," said Bharti.