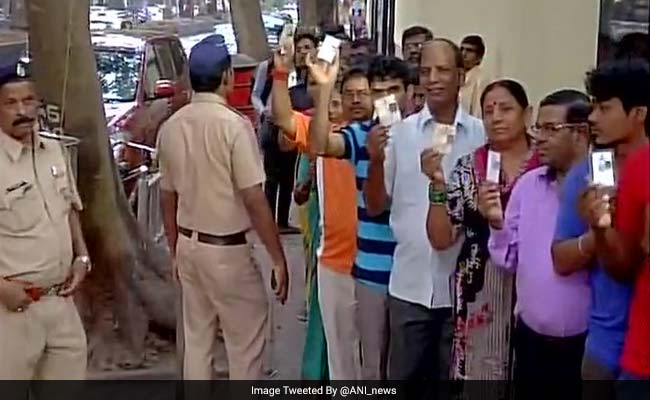 Mumbai:
Amid
high-stake battle between the former allies the BJP and Shiv Sena to win Mumbai
, all eyes will be on the results of cash-rich Brihanmumbai Municipal Corporation (BMC) elections today. The counting of votes for the polling to 10 municipal corporations, including the BMC, and 25 zilla parishads across Maharashtra will begin at 10 am, election officials have said.
A record 55 per cent voting, the highest in 25 years, was recorded as Mumbai voted on Tuesday
to decide who will the BMC. The turn-out for 11 Zilla Parishads and 118 Panchayat Samiti polls in the state was 69 per cent, election officials said.
BMC is the richest civic body in the country with an annual budget of 37,000 crores. It has 227 seats and to have control a party needs to have 114.
If the Sena loses control of the BMC, which it has dominated for two decades, its loss of political space will be complete after the BJP dominated the last national and assembly elections redefining itself as the senior partner in the alliance after playing junior to the Sena for years.
The BJP contested the BMC elections on its own this time after the Shiv Sena announced an end to their two-decade old partnership over "seat-sharing".
The Shiv Sena has been sullen for months now and has regularly attacked the BJP governments at the centre and the state over the notes ban and policy towards Pakistan, though it participates in both.
The Shiv Sena has said its support to the BJP-led government in Maharashtra was "temporary" in nature and that the future of Chief Minister Devednra Fadnavis "remains uncertain".
Chief Minister Devendra Fadnavis and Shiv Sena president Uddhav Thackeray, who led their respective parties from the front attacked each other fiercely. "If the BJP loses, I'll take the responsibility and if we win credit goes to the party," Mr Fadnavis had said.
Apart from Mumbai, the municipal corporations which went to the polls were Thane, Ulhasnagar, Nashik, Pune, Pimpri-Chinchwad, Solapur, Akola, Amravati and Nagpur.
In Mumbai, there were 2,275 candidates and 92 lakh voters. The first phase of 15 zilla parishads and 165 panchayat samitis polling was held on February 16 where 69 per cent voters exercised their franchise.