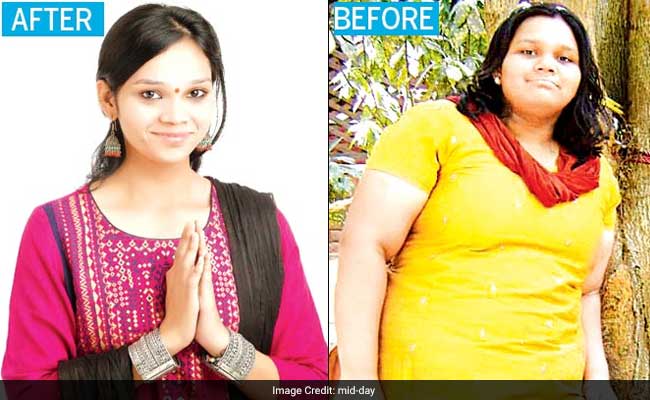 This 22-year-old's life has transformed in the span of three months. From weighing 116 kg to living in the shadows of her late politician father, Sayali Wanjale has now undergone both, a personal and political makeover.
Sayali, who won from the Warje Malvadi area (ward no. 32) with 13,956 votes on Thursday, is celebrating a double victory. The reason: Sayali lost over 60 kg during the last few months of rigorous campaigning.
Sayali is the daughter of MNS MLA Ramesh Wanjale, who died of a cardiac arrest in 2011. Having recently completed her post-graduation in political science from Vimalabai Garware College, Pune, Sayali decided to follow in her father's footsteps. "My father wanted me to join the civil services and also handle the two schools that we run. But, politics is in my blood, and I wanted to take his legacy forward. He was my idol," said Sayali, who joined the NCP.
However, before joining politics, she felt the need to get into shape. "I weighed 116 kg and wanted to be healthy and fit for this new role. I started following a proper diet and hit the gym," added Sayali, who decided to contest the elections in October.
It was only during the last three months of campaigning that Sayali started losing substantial weight. "I was on my feet from 8 am to 9 pm, daily, meeting people across the ward. There were no lifts in most buildings that I visited, so I would often take the stairs," she said.
Now that she has been elected from her ward, Sayali wants to work towards rehabilitating slumdwellers. "I will also begin a school for children from underprivileged backgrounds," she added. Sayali's mother Harshada said, "Her will-power and determination has led to this transformation. I am proud of her."
When contacted, bariatic surgeon Dr Jayashree Todkar commended Sayali's transformation, but as a word of caution said that such drastic weight loss, must be done under proper medical supervision. "Following a proper diet is important as this could otherwise have negative effects on the body," she added.
116 Kg is what she weighed initially.
(This story has not been edited by NDTV staff and is auto-generated from a syndicated feed.)