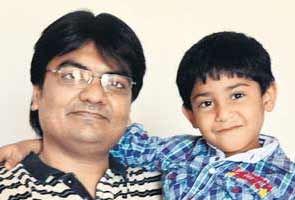 Mumbai:
In telling proof of the ruthless exploitation of parents by school authorities, a south Mumbai institution did not promote a child to Standard I from pre-first despite his parents giving Rs 2.5 lakh as donation initially and then spending Rs 1.25 lakh for repairing the school's roof. The management allegedly asked the parents for an additional Rs 3 lakh for giving the child admission to the school's primary section. In doing so, the school also violated the provisions of the Right to Education Act.
Motilal Jain, whose son Kunal (6), was failed by Activity High School at Pedder Road, has now written letters of complaint (copy with MiD DAY) to the Human Resource Development Ministry, Department of School Education and Literacy, Education Minister, Ministry of Women and Child Development, Home Minister RR Patil, the Mumbai Police Commissioner, the Anti-Corruption Bureau and BMC's education department.
Jain states that he initially went to the school for his son's admission in Montessori in January, 2007. The authorities denied his son admission then, but he was later called to the school and asked to pay a donation of Rs 2.5 lakh "Having paid the donation, I felt that my child's future was secure in the school. I paid the amount demanded as well as the fees for the year. However, in January 2008, the principal, Perin Bagli, told me that my child could not study further in the school because there were too many students and too little space. I was shocked to hear this as my son is a bright student and attends classes regularly," said Jain.
"She told me, however, that if I bore the expenses of repairing the roof of the school building, she would recommend my child to the school's trust and there was a possibility that they would not cancel his admission. Fearing that he would lose his place in the school, I agreed to this demand as well and spent Rs 1.25 lakh on the construction work," he added.
"Again, in October 2010, Bagli asked me for Rs 3 lakh, which she said was demanded by the school trustees for some function. I said no and told her that I wasn't some big businessman who could keep fulfilling their monetary demands. She got angry and told me that I would have to face the consequences," said Jain. And, true to the principal's word, Jain was handed a letter (copy with MiD DAY) by the school on October 28, 2010, which stated that Kunal would not be promoted to Standard I and was being denied admission to the primary section.
The letter, written on a plain paper and bearing the principal and headmistress' names, but not their signatures, stated: 'We regret to inform you that your child Kunal Jain, studying in Montessori V, will not be able to continue with us beyond Pre-First from March 2011, as mentioned in the admission form and duly signed by you.'
Kunal's mother, Urmila, said, "I am tense about my child's future. The principal insulted me in front of everyone in the school, asked me to get out and said I should get Kunal admitted in a BMC school." Dr Anil Shah, Jain's family physician, said, "When the school refused to promote Kunal, I ran an IQ test on him and the report came back normal. I went to his school with the report in an attempt to understand why they had held him back and the principal insulted me too. She said morons should not come knocking at her door and that she would not admit children whose parents were uneducated."
Abasaheb Jadhav, BMC education officer for primary schools, said, "Since the school is affiliated to the ICSE board, the Deputy Director of School Education has the authority to take action against it and we cannot do anything. The parents should file an FIR against the school with the local police for asking for donation and denying their child admission to the primary section."
Sunil Chauhan, Deputy Director of School Education, said, "We will investigate the matter and find out why the school denied the child admission. When he studied in the pre-primary section of Activity High School, the school is supposed to give him admission to the primary section. We will ensure that the child gets admitted to the same school."
S K Desai, headmistress, pre-primary section, Activity High School, said, "The child, Kunal Jain, was denied an admission because there was no space for him in standard I. If the Right to Education Act says no child should be denied an admission, it also states that one class should not have more than 65 students. Admission was denied to other kids as well. We did not ask Jain for any donation during his child's Montessori admission or now. The allegation that we did not admit Kunal because his parents are uneducated is baseless."
"I am not denying that Jain bore the expenses for repairing the roof, but we did not ask him to do it in the form of a donation. He said he would do whatever the school wanted for his child's admission and so he carried out the roof work at his own expense, as we don't accept donations. Kunal was denied admission also because he used foul language in class and disturbed other students," she said. Perin Bagli, principal of Activity High School, was out of the country and could not be reached for comment.