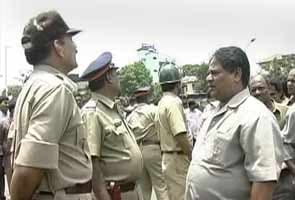 Mumbai:
The gang-rape of a 22-year-old photojournalist in the heart of Mumbai has once again raised questions over the security of women in India. More police presence on streets has been demanded from almost all quarters ever since the December 16 gang-rape in Delhi. Now, a Right To Information or RTI query has revealed some shocking numbers.
According to the reply received on an RTI query by activist, Vihar Durve, out of 48,969 policemen on duty in Mumbai, 27,740 are deployed for security of VIPs, which leaves only 20,000 cops for the security of over 2 crore residents of the city.
In India, there are only 137 policemen for every lakh of the population and some Rs. 341 crore was spent on guarding VVIPs in Delhi last year. Most of this money was spent on 376 individuals given Z-plus or central security forces. Rs. 40 crore was spent on the security in Rashtrapati Bhawan alone.
After the gang-rape in Delhi last year, heavy security cover given to the VIPs at the cost of the common man has been severely criticised with the Supreme Court asking state governments to furnish details of how many police personnel in their states are assigned to politicians.
More than eight months after the horrific incident in Delhi, where a 23-year-old medical student was gang-raped and fatally assaulted on a moving bus, the paucity of security for women has once again been highlighted with the gang-rape of a young photojournalist by five men in Mumbai on Thursday evening when she and her male colleague went to the deserted Shakti Mills compound in Lower Parel area on an assignment.
The woman is recovering in a hospital in Mumbai and two of the five accused have been arrested.
In another RTI reply received by Mr Durve, a total number of 49,000 cases on crimes against women are pending in the Bombay High Court, which is a jump of 40 per cent in the last five years. In 2008, there were 35,366 cases pending.