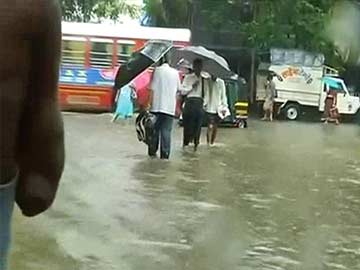 Mumbai:
Monsoon rains lashed Mumbai and large parts of coastal and western Maharashtra on Wednesday, disrupting normal life and leading to water-logging in several areas.
Though delayed by over three weeks - the normal date for the onset of monsoon is June 10 - the heavy rain provided welcome relief from the extended summer in Mumbai.
Since morning, several low-lying areas of Mumbai, Thane and other cities experienced water-logging. At some places the water reached nearly two feet, creating problems for vehicles and pedestrians.
Traffic came to a halt or crawled on some sections of S.V. Road in the western suburbs and L.B.S. Marg in the eastern suburbs.
Suburban trains on Western Railway, Central Railway lines and Harbour Line were delayed.
Traffic snarls plagued some sections of the Eastern Express Highway as also Western Express Highway, which slice the city vertically.
Trains under Western Railway were running late by a few minutes during the day, while around 70 services were cancelled on the Central Railway and Harbour Line, officials said.
Several areas like Kurla, Bhandup, Vikhroli, GTB Nagar, Sion, Kandivli and subways in Andheri and Dahisar were water-logged, hampering normal movement of vehicles.
Till 5 p.m., Mumbai recorded 28.08 mm of rain, eastern suburbs 115.85 mm and western suburbs 104.93 mm rainfall.
Chief Minister Prithviraj Chavan, who took stock of the water supply situation in the state, said till date, Maharashtra has got barely 58.50 mm or 26.30 percent average rain.
Of the state's 35 districts, only 16 have received around 25 percent of the season's total rain, creating the grim spectre of a drought-like situation.
The government has made arrangements to supply drinking water through 1,464 tankers to 4,676 villages and hamlets facing a water crisis, Chavan said.
He reiterated his appeal to people to use water sparingly and utilise existing resources only for drinking purposes.
Till July 2, Mumbai had a water stock of only 111,646 million litres, compared to 416,056 million litres last year, or barely sufficient for around 28 days.
Heavy rain was reported from Thane, Raigad, Ratnagiri, Sindhudurg, Nashik, Ahmednagar, Sangli and Satara districts in the coastal and western parts of the state.
Mumbaikars' favourite hill stations Khandala, Lonavala, Matheran, Panchagani and Mahabaleshwar were also soaked by the heavy rain, cooling constantly high temperatures of the past three-four months.
Rainfall has also been reported in the catchment areas of various lakes in Thane and Mumbai, which supply drinking water to the western megapolis.