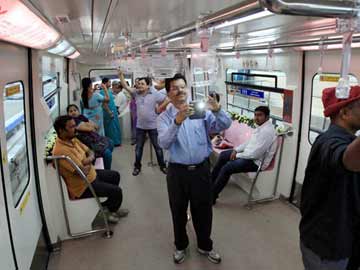 Mumbai:
The Mumbai Monorail opened to a huge response today with thousands lining up outside the stations to experience the country's first monorail on the first day of its service.
The nine-km first phase of the monorail was thrown open to the public after the Chief Minister Prithviraj Chavan and Deputy Chief Minister Ajit Pawar inaugurated it on Saturday evening. At 1pm with around two hours to go for the official closure, the police and monorail officials announced that the gates were shutting due to the huge crowds that had already gathered at the platforms.
In spite the gates shutting an hour early, services had to run for an extra hour and a half to accommodate the people already in the platforms. The commuters included toddlers, teenagers, families and senior citizens. Everyone cheered as colourful rakes chugged out of the stations.
Several passengers rated the Mumbai Monorail over its Singapore counterpart. "Now I think India is at par with countries like Singapore with us having a Monorail which is really cool" said a passenger. A school student who woke up early on Sunday to experience the ride from Wadala to Chembur told NDTV, "When I had been to Singapore I travelled on monorail there but in India it is better what exists in Singapore."
More than 20,000 people took the Monorail ride on the first day, as the 4-coach trains 61 trips between Chembur and Wadala, covering a distance in 19 minutes each time. The first train chugged out of the station at 7.08 am and services were plying till 4.30 pm.
Among those who took the monorail joyride was Abhishek Chopra. Abhishek has been the first person to commute on 9 flyovers across the city including the Eastern Freeway. Today he continued that effort by becoming the first commuter to buy a ticket and board a train from Wadala.
The Monorail service resumes at 7:00 am tomorrow and will continue till 3:00pm. Monorail authorities expect the crowds to ease a bit tomorrow.