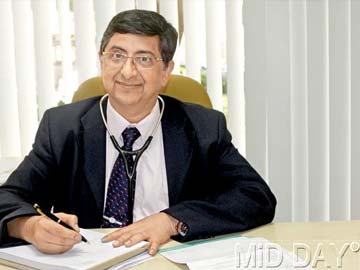 Mumbai:
Nine years ago, Dr Rajiv Karnik contemplated suicide after being diagnosed with acute myeloid leukemia. After a long battle and a medical miracle, he beat cancer and now saves many lives as a cardiologist
Most people diagnosed with acute myeloid leukemia would probably think life had come to a standstill; not Dr Rajiv Karnik though.
Nine years after doctors told him of his condition and medical text books told him his chances of survival were slim, the noted cardiologist is not only fighting a winning battle against cancer - but also helping several fellow human beings get a second shot at life.
While National Cancer Survivors Day - observed and celebrated across the world today - will just be another day at work for the doctor, Karnik acknowledges the fact that he is blessed to be alive.
What started with symptoms like breathlessness and back pain while working overseas - symptoms that the cardiologist attributed to the cold weather in the US - resulted in the rapid deterioration of his health after he was diagnosed with blood cancer in Mumbai.
"I was diagnosed in 2005 after I returned to the city after a stint in the US. The diagnosis came as a shock because I thought the backache was caused because of walking in the snow every day," recalled Dr Karnik, now an interventional cardiologist in Mulund's Fortis hospital.
"I was 48 years old and was in hospital for six months. I had severe respiratory distress caused by pneumonia. I was tired of being in the ICU and even contemplated suicide," he admitted. Most medical books did not offer good news: apparently those suffering from this form of blood cancer are not expected to survive beyond three years.
The light at the end of the tunnel, came through the spiritual route - strange considering Dr Karnik was a non-believer. "Though I was an atheist, my wife is a staunch believer in spirituality. Her spiritual guide told her that I would survive and her faith gave me the confidence that I desperately needed," he added.
Other than his renewed faith in spirituality and positive thinking that helped him brave the odds, he acknowledges the immense support from his childhood friends and fellow patients that helped him through his chemotherapy and radiation sessions.
"I underwent more than 50 blood and platelet transfusions while at the Tata Memorial Hospital. What made it bearable were friends and relatives who willingly came forward and donated blood regularly," he said. Today the cardiologist says a full recovery is possible for most cancer patients if the problem is detected early, and a positive attitude always goes a long way.
"I work long hours now as I am in the hospital by 10 am and sometimes have to attend to patients till midnight. I went through induction therapy after I was in remission, to kill the clone cells, and a subsequent consolidation cycle to prevent any relapse," added Dr Karnik, flashing a winning smile.