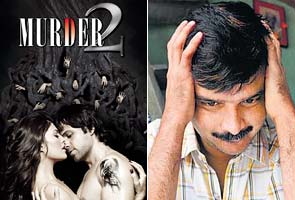 Mumbai:
When
Murder
director Mahesh Bhatt said that the sequel to the movie would go beyond the original film, he could not have foreseen that it would extend all the way to a common man, whose phone hasn't stopped ringing ever since
Murder 2
released.
Why? It turns out the number of the shady Goan agency shown in the movie to be involved in trafficking women, is his!
Nitesh Ramesh Visawadhiya from Jogeshwari is a tailor on the straight and the narrow. But lately, he has been plagued by phone calls since the movie premiered on July 8. His callers are generally male, come from all over the country, and get straight to the point.
"I get outrageous and, often, lewd phone calls from places like Bihar and other far-flung regions of the country.
Once, a man called from Goa asking if I was in the business of providing women. If my phone is ever traced, I could get arrested for this! The police might think I'm a
dalal
who sells girls," said Mr Visawadhiya.
Quite a few of his callers, aspirants, movies buffs and well, pleasure-seekers, ask him to convey their regards to the movie's producer Mahesh Bhatt.
"They assume I'm acquainted with Bhatt, then tell me how they are better actors than Emraan Hashmi and ask me to give them an acting break. The others merely want to meet the actress with whom this number is associated with in the movie."
Mr Visawadhiya has taken his complaint to the police only to be told to come back when he actually sees the movie. "I don't have the time to waste at a movie theatre. I have a business to run. I can't even afford to change this number. Most of my clients contact me on it."
His kin are no more sympathetic than the cops, who think he is joking. "I just want the harassment to stop," he said. For Mr Visawadhiya's sake, we hope a new movie captures the popular imagination soon.
Wrong number
Other reel-to-real life cross-connections:
Ghajini
: In 2009, Bangalore resident Sarah Varghese was bombarded with calls asking for
Ghajini
, as one of the things that Aamir Khan's character in the film tattoos on his body turned out to be her number.

Bruce Almighty
: In the 2009 movie, God leaves a number on Jim Carrey's character's pager. But in reality, it belonged to one Dawn Jenkins, a glass maker in Florida, US, who kept getting calls asking for God.

36 China Town
: Upen Patel plays a stud in the 2006 movie who gives his number to every pretty girl he comes across. The number, in real life, happened to belong to Mumbai-based Dr Neeraj Dubey.