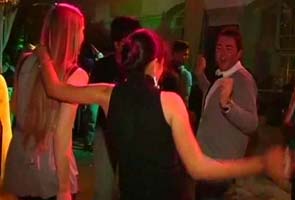 Mumbai:
It's that time of the year when party plans get charted out with full vigor but Mumbai seems to be lagging behind thanks to an official killjoy. Playing party pooper is the 25 percent entertainment tax slapped by the Maharashtra government on pubs, hotels and restaurants on the night of December 31. This has forced the revelers to move the party elsewhere.
"In Mumbai it is very difficult to reach the location on time. Usually we get stuck en route as the traffic is a huge problem and therefore I have decided that I will party indoors with my friends", said Smita Dixit to NDTV.
When asked if Mumbai is still the party capital, Smita said, "That image has taken a beating. We all know about the action taken by a certain cop who just barged in a food outlet brandishing his hockey stick and threatened us, but now things are getting better."
Jyoti Shah, who shares a similar view, says, "I have decided to go to a hill station to ring in my New Year. It is nice, far from the maddening crowd. It's beautiful to be amidst nature and amongst our close group of friends."
This tax has been levied despite the state government allowing pubs and restaurants to serve drinks until 5 am on January 1.
"We have been in this business for 40 years now, serving food to people. Why has the government imposed an entertainment tax this time around? On a New Year if you do light some fireworks or use psychedelic lights during the transition from the old year to the New Year, we should pay entertainment tax. How fair is that?" Tony Singh, owner of Mid-town Pritam, told NDTV.
"We already pay a food tax, liquor tax and this additional tax will only make the New Year eve's dinner an expensive affair," said Mr Singh.
When asked about whether Mumbai's party image has taken a beating Mr Singh said, "People are stuck in traffic all the while and just cannot reach their party destination. Adding to their woes is the ridiculous action taken by the police. You can always make a request, you cannot hit the patrons or scare them with hockey sticks," Mr Singh said.
Hoteliers are also confused about a Mumbai Police notice which 'recommends' video recording of such parties held in hotels. However, the Mumbai police denies it. While hoteliers are upset, the Mumbai police is taking no chances. Special crowd management arrangements have been made in areas like Gateway of India, Juhu beach, Girguam chowpatty, which are places of public gatherings. Crowds in such places will be divided into stags and families to avert cases of molestation. Mumbai's traffic police will videograph revelers at key traffic checkpoints who create nuisance while driving vehicles.
"This year around we will be keeping a check on the revelers and videograph them at key checkpoints. People who sit on the car or on the deck of the car or play blaring music will be charged," said Brijesh Singh, additional police commissioner, Traffic.
Mumbai is known as a city that works hard and parties harder but with the steep rise in prices, growing security concerns at unsafe public spaces and huge vigil on the roads on New Year's eve, people are either opting for locations outside Mumbai or partying indoors.