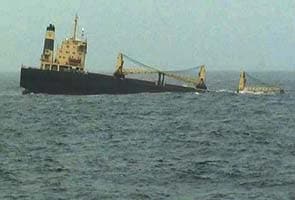 Mumbai:
An FIR was registered on Friday against the foreign owner, captain and crew members of the cargo vessel M V Rak that sank, off the Mumbai coast on Thursday.
"An FIR was registered against the owner, captain and crew members under IPC section 336 (Act endangering life or personal safety of others)," Deputy Police Commissioner (Port Zone) Tanaji Ghadge said.
The Coast Guard sources said they could see the oil layers around where the 225 metre-long vessel, which contained about 290 tons of fuel oil and 50 tons of diesel sank but, described it as a very "negligible" as it will not create any ecological problems.
"Such oil layers are found whenever any ship sinks. It is very negligible. It will not create any major environmental problems," a Coast Guard official added.
"Some drums and light materials on the vessel started floating which may cause problems to other ships passing through navigational channel. Mariners have been alerted about this," said official.
The cargo ship, which was on its way from Indonesia's Tutung to Dahej in Gujarat with 60,000 tonnes of coal on board, had a 30-member crew of Indonesian, Jordanian and Romanian nationalities, who were rescued by the defence personnel before it sank on Thursday.