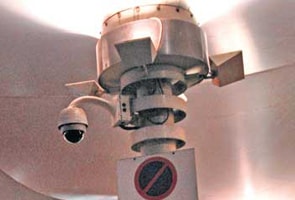 Mumbai:
In a step that will minimise the threat of terror attacks, authorities have installed a large number of high-resolution CCTV cameras covering the highly sensitive Chhatrapati Shivaji International Airport from "all possible angles".
"Every possible angle is covered by 24 highly sensitive cameras around the clock and all suspicious movement can be identified and tracked within minutes.
The process of installing CCTV units has been ongoing since the past few weeks," said zonal Deputy Commissioner of Police, Satyanarayan Choudhary.
MiD DAY had reported on September 5, 2010, that there were no CCTV cameras around the 5.9 sq km perimeter of the airstrip.
The report came at a time when there were dozens of intelligence inputs hinting at possible terrorist attacks on the airport.
Choudhary pointed out that the actual requirement is 70 cameras to cover all areas around the airport and, so far, 34 have been installed. The remaining units will be installed by March this year, he added.
Police sources pointed out that the high-resolution cameras will be used to monitor all activity in and around the airport and to identify and track suspects moving around suspiciously.
An early warning issued by the camera operators could not only help foil an attack but also reduce casualties in case of one.
The alarm will be followed up with alerts being issued to security forces like police commando units, National Security Guards (NSG), Force One and other police units positioned around the airport.
A police report indicated that CCTVs have now been installed around sensitive areas like the entrances of 1 A and 1B terminals and also the cargo complex.
The parking areas and booking offices are also covered by the network of CCTV cameras.
A senior police officer said that the new CCTV units would also be useful to keep tabs on suspects affiliated to the underworld, many of whom have been doubling up as porters and drivers of various private airlines.
The Intelligence Bureau has shortlisted names of several employees who have managed to seek employment as clearing and forwarding agents.
Investigation results indicate that a majority of employees within the airport complex have secured indirect employment with contractors.
The cameras are expected to monitor high-level criminals owing allegiance to Dawood Ibrahim's right-hand man, Chhota Shakeel. It is known that at least one of Dawood's close associates conducts business at the airport.
Gangsters like Ravi Pujari and Chhota Rajan are attempting to intimidate clearing and forwarding agents into coughing up protection money since several of them are engaged in octroi evasion rackets.
2000 CISF personnel are also stationed on the airport premises.