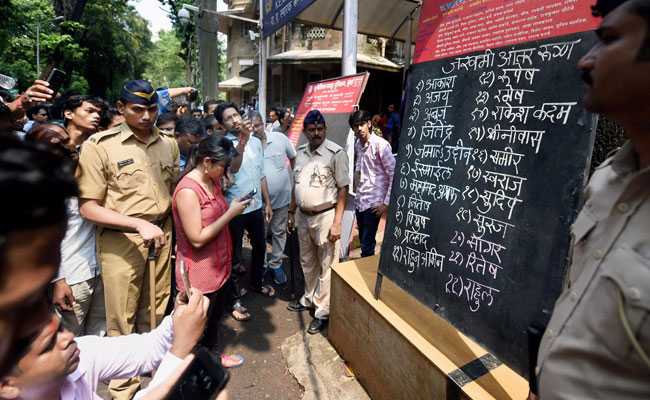 Highlights
KEM hospital is under fire for writing numbers on victims' foreheads
Their photographs were also put up on a board by the hospital
The hospital says it was done to ease identification process, avoid chaos
Mumbai:
When the anxious relatives reached Mumbai's KEM hospital, they were appalled to see numbers scribbled on the foreheads of the Elphinstone Road station stampede victims. Their photographs were also put up on a flex board by the hospital.
The morning rush-hour
tragedy
that unfolded on a
decades-old foot overbridge
near the station killed at least 22 and left over 30 injured injured. While the hospital is facing flak for marking the deceased and displaying their photographs, the management clarified that "it was a scientific measure" which was "taken to ease the process of identification and avoid chaos".
A statement issued by the hospital said that they didn't intend to hurt anybody's "sentiments".
"It would have been a big mental trauma to make the relatives see all 22 bodies for identification," Dr Harish Pathak, head of the forensic science department, said.
The numbers were erased after the autopsies, he informed, and added it would be "unjustified and unwise" to criticise the scientific method adopted by the hospital for "speedy, honourable and smooth identification" of the victims.
The stampede took place around 10.30 am, when four trains rolled in at the same time and a crowd surged over the narrow bridge that was already crammed with people taking shelter from a heavy downpour. A few commuters slipped, and others fell on them. There were also reports of a
loud sound near the bridge
, possibly a short-circuit, that spread panic.
Railways Minister Piyush Goyal has ordered an inquiry
and Maharashtra Chief Minister Devendra Fadnavis has announced
compensation
to the families of deceased and injured.
The police are also investigating
the reasons that created panic and triggered a rush.
(With inputs from PTI)