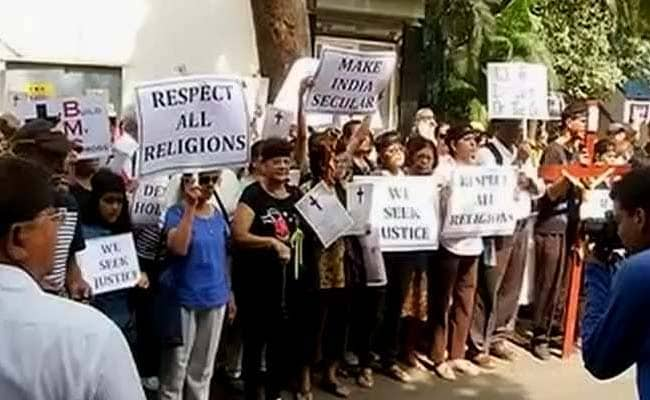 Mumbai:
Catholic associations in Mumbai, along with residents of posh locality Bandra, held silent protests on Wednesday outside the Brihanmumbai Municipal Corporation or BMC office in Bandra West. Over 300 people had gathered to agitate against the civic body after it demolished a 122-year-old Holy Cross that was allegedly situated on private land in Bandra West. Protesters held up banners that read "Shame on the BMC" and "We need justice" to get their point across.
"It's a known fact that the D'monte Cross is an age old cross and is over 100 years old, it's not a new cross which has been recently built. So that's why the people are really hurt with what they have done, it could be done in a better way, they could have called the people and could have told them that this is the problem" said Bandra resident Karen D'Mello, who participated in the protest.
The demolition drive was conducted by the BMC last Saturday in accordance with the Bombay High Court order that directed the civic body to remove unauthorized religious structures.
In its statement, the BMC wrote, "These illegal structures were finalized after receiving reservation/notices by public. All relevant documents related to these illegal structures are with the BMC. Municipal Commissioner is going to see the documents of such illegal structures against which people have objection. After examining the documents, he will take necessary action. If anyone wants to approach the court, the BMC will give the concerned papers related to these illegal religious structures".
But members of the Catholic community argue that the land where the cross was situated was private property and despite pointing this out to the BMC, the civic body went ahead with the demolition.
"We have given them sufficient and all the relevant papers, proving it to them that this cross is on private property and still they came and demolished this cross on Saturday" said Savio Gonsalves.
After conducting meetings with BMC officials, the members have now decided to move the High Court to pursue the matter further.