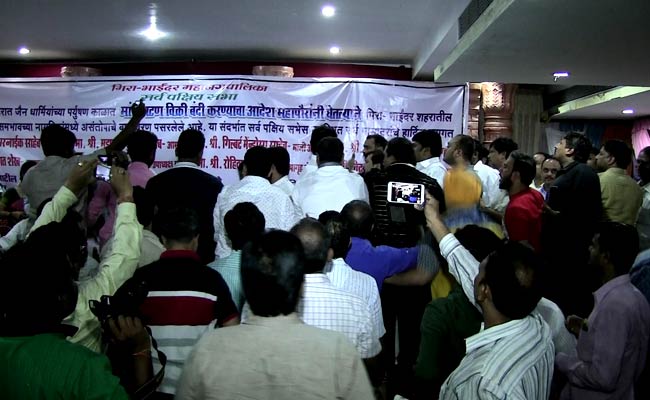 Mira-Bhayander:
An all-party meet organised in the Mumbai suburb of Mira-Bhayander by a Shiv Sena lawmaker to discuss the meat ban saw members of the BJP protest outside the venue, alleging that the sole aim of the meet was to target their party.
Shiv Sena MLA for Thane, Pratap Sarnaik, had invited the Congress, Nationalist Congress Party (NCP), Republican Party of India (RPI) and Bahujan Vikas Aghadi (BVA) among others to the meeting to discuss the ban.
The BJP and Shiv Sena, allies in government, have found themselves on different sides of the divide over the eight-day meat ban that the BJP-led Mira-Bhayander Municipal Corporation insists on enforcing.
BJP standing committee chairperson Prashant Keluskar, corporators Sharad Patil and Rakesh Shah were protesting outside the venue as members of other parties arrived at the venue. "The meeting has been called only to target the BJP and it's a conspiracy against our party," Mr Keluskar said.
The Shiv Sena, which has said it will not allow such a meat ban to be implemented, held its ground. "The BJP's move can upset communal harmony and these parties are meeting as they are united against the BJP. Why did the BJP raise such an issue and open itself up for criticism? We will continue to oppose the ban and ensure meat is sold," said Mr Sarnaik.