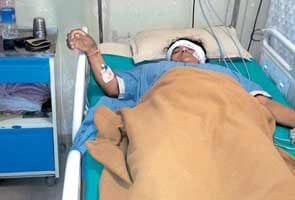 Mumbai:
A 42-year-old housewife's ear was lopped off when she was grazed by a speeding ambulance on Friday night. The accident took place when an ambulance driver was giving driving lessons to an Operation Thaetre (OT) technician. Both were employees of the Platinum Hospital, located at Mulund checknaka.
Both driver and OT technician were arrested for negligent driving. The victim was operated upon at the same hospital, where plastic surgeons managed to repair the damage to her ear.
According to cops, the victim Shraddha Bhoir, who stays at Shashtri Nagar, Mulund (West), was on her way home after finishing work related to her tiffin business around 10 pm, when she saw the ambulance hurtling towards her. Suresh More, the ambulance driver, was teaching Rupchand Bange, the OT technician, how to drive.
"Suddenly, Bange lost control and grazed Bhoir on the left, and then knocked a Santro standing nearby," said Surjit Singh Puri, a social worker from the area.
"The woman lost consciousness immediately and we rushed her to a nearby Vertex hospital in the same ambulance. It was then that we realised that she had lost her left ear. We had to go back to the accident spot, hunt it out and pick it up. We then handed it over to the hospital," said Puri.
Cops booked Bange for negligent driving, endangering life and causing grievous hurt.
"Bange got bail on Sunday at the Bhoiwada holiday court. More was fined under the Mumbai Police Act for negligence," said a police officer from the Mulund police station.
Platinum Hospital suspended Bange and More from work. "We took Bhoir to our hospital and performed plastic surgery on her left ear. She is now doing well. We will also offer compensation to her. We have suspended the two employees for driving the ambulance as part of lessons, without taking our permission for the same," said Sunil Sulebhavkar, manager of Platinum hospital.