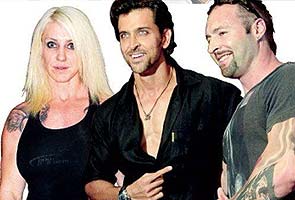 Mumbai:
A fitness consultant, who helped Hrithik Roshan train for his upcoming film Krrish 3, has alleged that the agency that hired him for the job has not paid his dues.
Kris Gethin, a UK national, and his wife Marika Johansson, lodged a complaint at the Bandra police station yesterday. As per the complaint, Sheru Aangrish, promoter of fitness company Sheru Classic Production, owes Kris £28,358 (Rs 28 lakh approximately) and Marika £83,160 (close to Rs 83 lakh).
Gethin says Aangrish, a fitness company, hired him for the job. The firm also organises Sheru Classic, an annual bodybuilding competition, where Aangrish met the couple.
"Soon after the event, Kris was approached by Aangrish, who wanted him to train Hrithik for his upcoming film Krrish 3. The deal was negotiated and fixed at £20,000 (Rs 20 lakh) a month, of which Aangrish was supposed to get 25 per cent as commission," said Marika.
Marika moved to Mumbai with Gethin in November 2011, and began living in a hotel provided by Aangrish. In January 2012, Marika was hired to train the Roshan family, while Hrithik Roshan trained under Gethin. She too agreed to a fee of £20,000 per month.
"Despite the contract, I have not received my salary for a single month till date. Kris was also not paid even after a few months. When he informed Hrithik about payment issues with Aangrish, the actor cleared some of his dues directly. Due to a constant delay in receiving salaries, Kris terminated the contract, and left India in October 2012. I discontinued the training in June 2012," said Marika.
When they failed to get their dues, the couple approached the UK embassy in Mumbai, which asked them to file a complaint with the local police. The Bandra police sent a team to the Sheru Classic Productions office in Bandra, but Aangrish was not traceable.
Marika said, "Sheru has avoided all contact with me. He threatened me with physical harm and has caused me tremendous anguish. Due to the immense emotional pressure that my husband and I faced, we had many fights and we are now separated." While Gethin has moved back to the UK, Marika is still in India and hopes to get her payment.
The couple's advocate, Dinesh Tiwari, said, "My clients have lodged a complaint with the Bandra police and we will issue a legal notice to Aangrish."

The other side
Sheru Aangrish flatly denied the allegations, saying, "These guys are trying to hurl accusations because my bodybuilding programme is coming up this weekend. They want to damage my reputation in society."
Rs 20 lakh
Amount to be paid per month to both Kris and Marika, according to the contracts