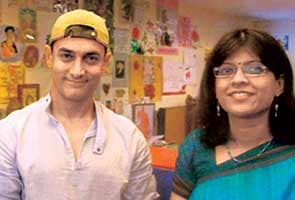 Mumbai:
Actor Aamir Khan's TV show Satyamev Jayate has helped a city NGO that works in the field of de-addiction, Muktangan Rehabilitation Centre (MRS), receive Rs 4.37 lakh in donations. The NGO has decided to use the money on street children addicted to various harmful substances.
The MRS is an ISO 9001:2000 certified body whose work and activities were highlighted in Khan's show in the ninth episode that dealt with the issue of alcohol abuse. MRS was nominated for donations by Khan's production for its consistent work in the field of de-addiction.
For a cause: Actor Aamir Khan (centre) with Muktangan founder Mukta Puntambekar and her husband while handing over the Rs 4.37 lakh from Satyamev Jayate and its philanthropy partner Reliance Foundation on Friday
Khan delivered the cheque of Rs 4.37 lakh to Muktangan on the stage of the Asar Programme on July 6 in Mumbai. The Rs 4.37 lakh had come from contributions from the public in the form of SMSes that totalled Rs 2.18 lakh and an equal amount contributed by Nita Ambani's Reliance Foundation.
Mukta Puntambekar, project director of MRS, said the donations would be utilised for treating street children who are addicted but cannot afford treatment.
"These children are mostly addicted to easily available whitener and there is no one to take care of them," Puntambekar said. "We will give them free treatment. Since the show was telecast on July 1, we have received more than 5,000 enquiries related to de-addiction, both in the form of calls and e-mails. Programmes like Satyamev Jayate are doing great job in highlighting the vices in society and making people aware of the ways to get rid of these."
She said the first contact with the Satyamev Jayate team was about six months ago. "We were contacted by Satyamev Jayate's team about six months ago at a time when we were unaware about the entire process, and it was only when we were invited to the show that the clouds cleared," Puntambekar said. "On Friday, we were overwhelmed to receive the donation and will ensure the good work continues for many more years to come."
Appealing to the public to come forward and eradicate drug and alcohol addiction from society, the MRS activist said addicts in need of help may approach the NGO on the mobile number 09922028366 for help or even visit its Facebook page or website for any queries.