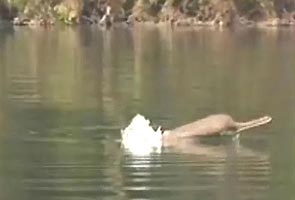 Lucknow:
A dolphin census will be carried out in all major rivers of Uttar Pradesh to estimate the population of the species.
The census will be carried out for three days from October 5 by World Wildlife Fund (WWF) India in collaboration with the Uttar Pradesh Forest department.
The survey would be carried out in all major rivers in the state, including Ganga, Ken, Betwa, Yamuna, Chambal, Geruwa, Ghaghra and Son, covering a distance of approximately 2750 kilometres, forest officials said in Lucknow.
The survey will involve voluntary organisations, riparian communities, government departments, village panchayats, environmentalists and experts, they said.
The main objective of the campaign 'My Ganga, My Dolphin' is to create awareness about the conservation of the species. The objective is to raise awareness among locals about the importance of the species.