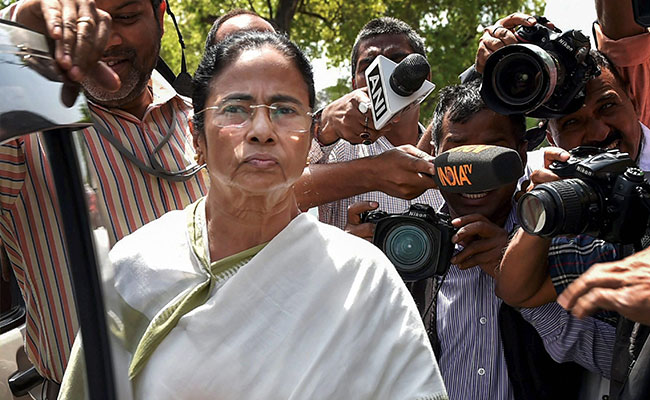 Highlights
Trinamool Congress set to win 90 per cent of rural seats
Prime Minister spoke without cross-checking facts, says Mamata Banerjee
"Of 13 people killed, 10 were of Trinamool," says Ms Banerjee
Kolkata:
The complete panchayat poll results were yet to be declared. But West Bengal chief minister Mamata Banerjee said in Kolkata on Thursday evening, despite a united opposition and huge propaganda against it, the Trinamool Congress was
set to win 90 per cent
of the rural seats in the state.
"We have been humiliated. Even by the prime minister, which we didn't expect. No chief minister speaks about a prime minister like this. It is not in the constitution," she said. "Prime minister spoke without cross-checking facts. 10 TMC men have been killed by BJP people," she added, "But people are with us."
On Tuesday, Prime Minister Narendra Modi said the panchayat poll in Bengal
was a murder of democracy
. He also said workers of every political party except Trinamool had been killed in poll related violence.
"Some blood has been shed, some incidents of terror, some sporadic incidents have happened, something we didn't want, " Ms Banerjee said. "But in Bengal, panchayat poll is a political affair, unlike in others states. Local enmity comes into play, also family problems as members of the same family contest against each other. But of 13 people killed, 10 were of the Trinamool and CPM-BJP jointly murdered them. The FIRs say so," she added.
She complained angrily of
multi-pronged attacks on her
. "What has not been done against us? On one side, government of India, all kinds of cases in Calcutta High Court and Supreme Court. I haven't been able to work...Obstacles at every step. I have not seen anything like this," she said.
"The BJP is lying and saying they couldn't file nomination for the polls. In 2013, the BJP filed 11,000 nominations. This time they gave 28,000 candidates with help from CPM. Why are they lying?" Ms Banerjee said. The poll process became controversial from the very beginning with opposition parties claiming they were unable to file nominations because of terror unleashed by Trinamool Congress.
Ms Banerjee accused the BJP of being hand in gloves with Maoists, too, in Bengal while conducting operations against them in Chattisgarh. She also claimed money was pumped into the state during panchayat polls for nefarious purpose from BJP ruled neighbours Jharkhand and Assam.
The Congress, too, drew flak for "associating" with the BJP. "Why did Congress join hands with BJP? Today, because of that, disaster has befallen Congress. They have lost their strongholds Malda and Murshidabad and in other district," she said.