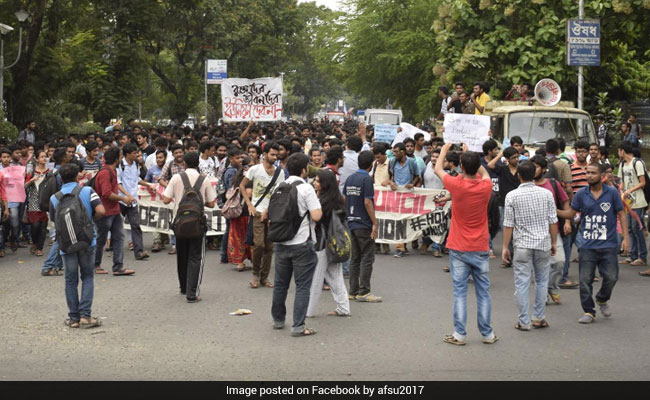 Kolkata:
Jadavpur University students began a sit-in on Monday outside the Aurobindo Hall to protest against provisions of a bill that effectively dissolves the students unions.
The agitating students are demanding immediate revocation of the bill, which had been passed in the West Bengal Assembly last year.
"The bill will turn the democratically elected students unions redundant and vest all authorities on the university executive council, which cannot be allowed under any circumstances," a spokesperson of Arts Faculty Students Union (AFSU) said.
The members of AFSU and Faculty of Engineering and Technology Students Union (FETSU) sat in front of the Aurobindo Bhavan of the university, as the executive council members including the vice-chancellor (VC), pro-VC and registrar were in a meeting inside.
"The university will always take the students in confidence and never oppose any democratic movement, but we have nothing to do with the bill. We have already communicated the sentiments of students to the Higher Education Department," Vice Chancellor Prof Suranjan Das said before entering the meeting.
The provision in the West Bengal Universities and Colleges (Administration and Regulation) Bill 2017, against which the students are protesting, will enable the state government to prescribe rules and procedures for conducting students bodies or unions' elections.
It was passed in the the state assembly in February 2017. In August, agitating students had gheraoed the VC and other EC members on the same issue.