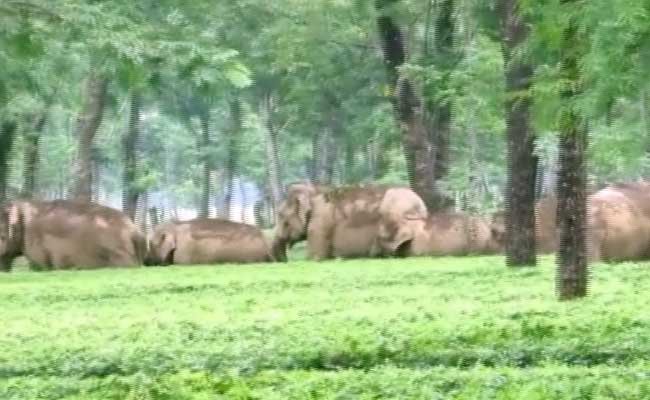 Kolkata:
A herd of 31 elephants, nine of them babies, is roaming around a tea garden in West Bengal's Jalpaiguri district since early this morning. Around noon, for almost 30 minutes, they blocked a state highway, bringing traffic to a halt. Forest and wildlife workers burst small firecrackers to push them back into the garden but have not managed to send them back into the Totapara forest from where they appear to have wandered out.
Workers at the Gandrapara tea garden, about 55 km from Jalpaiguri town spotted the herd of elephants early this morning and fled in panic. But as the elephants wandered about harmlessly, hundreds of people gathered to watch them. Wildlife and forest officials of the Diana, Binaguri and Banarhat range were informed and immediately rushed to the spot.
"People were really scared," said tea garden resident Bidhan Sarkar. "Especially when the elephants wandered on to the highway and blocked traffic, hundreds of excited people gathered to see them. There could have been an accident any moment," he said.
Forest ranger Dilip Das Chowdhury of the Binaguri squad said, "The herd has come from the Totapara forest. We have been struggling to create a route back for them. But many parts of the tea garden are fenced with barbed wires. The elephants can't cross them, they are getting hurt and scared. The wiring should be removed."
This is not the first time elephants have entered tea gardens in north Bengal but such a large herd has seldom been sighted. Wildlife workers say the presence of nine baby elephants is making the herd more protective and nervous and slowing down their return to the forests.