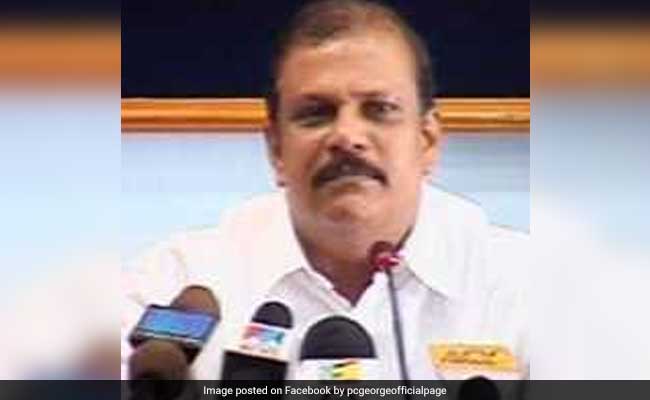 Thiruvanathapuram:
Kerala Assembly Speaker P Sreeramakrishnan today warned PC George, MLA, that he would take whatever action was possible against the legislator, if he continued to make "insensitive" remarks against the actress who was abducted and sexually assaulted in a car in Kochi in February this year.
PC George, while talking to television channels, had allegedly made some unsavoury remarks against the actress.
The actress has also written to Chief Minister Pinarayi Vijayan against PC George's comments which, she said, had come at a time when she was trying to return to a normal life.
P Sreeramakrishnan in a Facebook Post today said PC George's comments were "inhuman" and he would take whatever action was possible in his capacity as Speaker if he continued his tirade against the actress.
"Those sitting in high places are coming out justifying such acts. This will be an encouragement for the criminals," he said.
The speaker said he firmly believed that such "irresponsible" comments should not be made by anyone and made it clear that he would do whatever he could to stop such tendencies.
"The case is being investigated by police and the matter is before court," the speaker said.
"Let the law take its course," he said, adding, he did not want to say anthing further.
The Kerala Women's Commission had on Monday suo moto registered a case against PC George for his 'unsavoury' remarks against the actress.
Commission sources had said the case was registered based on legal opinion and that speaker was informed about the development.
As per the legal opinion, PC George's remarks during a recent press conference amounted to defaming the actress and hurting womanhood.
PC George is an independent MLA representing Poonjar constituency in the Kerala Assembly.
Six persons, including prime accused Pulsar Suni, have been arrested in connection with the actress abduction and molestation case.
The actress, who has worked in Tamil and Telugu films besides Malayalam, was abducted and sexually assaulted inside her car for two hours by the accused who forced its way into the vehicle on February 17 in Kochi. The culprits later escaped.
Besides the six accused, popular Malayalam actor Dileep was arrested in connection with a case of plotting the abduction and sexual assault of the actress.