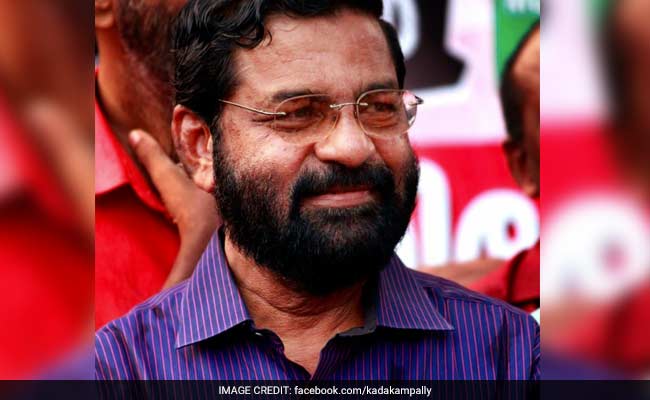 Highlights
In Facebook post, minister K Surendran says he is getting complaints
RSS trying to push believers away from temples, post read
Temples are being used for storing and training in weapons, it read
Thiruvananthapuram:
Kadakampally Surendran, the Devasom Board Minister in Kerala's CPM-led government who is also in-charge of temples in the state, has made a scathing criticism against the Rashtriya Swayamsevak Sangh, the BJP's ideological mentor.
In a Facebook post on Monday, the minister said, "Every day, I'm getting several complaints about organisations, including the RSS conducting illegal activities in temples under the Devaswom board."
Promising intervention by the state, he added: "The RSS is trying to push believers away from temples, making it a storage for weapons and by weapon training. Such anti-social activities will not be allowed."
But BJP state president Kummanam Rajasekharan rubbished the allegations.
"Why has the minister not mentioned which are these temples which are being misused? Why does he not show the petitions which have come to him? He is just imagining things," he told NDTV.
The Left-led government has lately taken up several issues relating to the temples in the state.
On August 18, Chief Minister Pinarayi Vijayan had suggested that the practice of providing special darshan for VIPs at the Sabarimala temple should be done away with. During a review meeting of various facilities at the hill shrine, he further suggested that the temple should adopt a queue system for pilgrims as is prevalent at the Tirupati temple.
The ruling LDF has also supported the entry of women of all ages in the Sabarimala hill shrine - a matter that is pending in the Supreme Court.
Not only the BJP, but the Congress has also opposed what they call the government's "interference" in religious issues.
Former Chief Minister, Congress's Oommen Chandy, has said, "ministries have been created and ministers appointed for the convenience of governance and not to take decisions on rituals and customs".