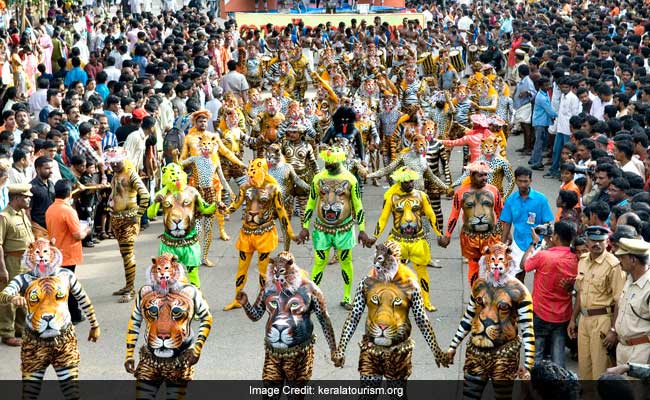 Thrissur:
Breaking conventional gender barriers, women are all set to don the garb of symbolic tigers in this year's 'Pulikali' (Dance of Tigers), a famous folk art which has been an exclusive bastion of male artistes.
Three women will take part in this year's Pulikali, to be held in front of the famed Vadakkunnatha Siva temple in the city this evening.
Believed to have been introduced by erstwhile ruler of Cochin Maharaja Rama Varma Sakthan Thampuran two centuries ago, Pulikali, held annually as part of Onam festivities, is a symbolic representation of bravery and wild spirit.
A large number of trained artistes, painted as tigers and hunters, would dance to the beats of instruments such as 'udukku' and 'takil'.
The trio -- N A Vinaya, Divya and Sakheena -- all belonging to various professions and members of Women Integration and Growth through Sports (WINGS), an NGO, would take part in the folk art along with the other male artistes, organisers said.
Ms Vinaya, a participant, said it was an opportunity for them to leave a mark in an area in which only men were till now involved.
"It is a beginning and we want more women to come forward and participate in it. Organisations should also show readiness to include more women participants in the traditional art form," she said.
Symbolic 'tigers', dancing, pouncing and shaking their bellies along the road, attract thousands of people, including foreigners here every year. A large number of spectators would throng both sides of city roads to catch a glimpse of the artistes.
The artistes, young and old, including a 72-year-old veteran, will be participating wearing tiger masks and their body painted in various hues of tiger.
The meticulous process of painting on artistes would take at least five to seven hours.