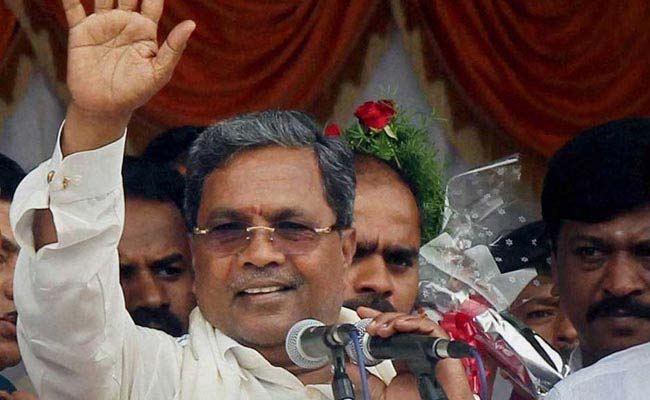 Bengaluru:
Karnataka Chief Minister Siddaramaiah today stepped in to quell the simmering discontent in the ruling Congress over the Cabinet reshuffle in which 14 ministers were dropped and 13 new faces inducted on Sunday.
"Siddaramaiah spoke to some of the dropped ministers and explained to them reasons for revamping the ministry. He advised them not to rebel and help the government in serving the people as lawmakers," a party official told news agency IANS.
Though Kannada rebel actor MH Ambareesh resigned as Mandya lawmaker for being sacked, Deputy Speaker NH Shivashankara Reddy rejected his resignation letter as it was not written as per the rules.
"The chief minister also called on Ambareesh and told him not to take any hasty decision like resigning, as his services were required for the party in the run-up to the next Assembly elections, due in early 2018," the official said.
Similarly, in a bid to pacify supporters of Dinesh Gundu Rao, one of the ministers removed, and a lawmaker from Bengaluru, Congress general secretary Janardan Dwivedi announced in New Delhi that party president Sonia Gandhi had approved appointing him (Rao) as the party's state unit working president.
Earlier in the day, about 200 Mr Rao's supporters and party workers demonstrated near the chief minister's official residence to protest his removal from the Cabinet.
Rao, a three-time lawmaker and party's national spokesman, is the son of former Congress chief minister R Gundu Rao (1980-83).
A dawn-to-dusk shutdown was also observed in the Mysuru region, with thousands of people staging rallies and demos, to protest removal of Mr Srinivasa Prasad as a minister along with Mr Ambareesh and others.
As the chief minister's consultations with senior Cabinet colleagues remained inconclusive, list of portfolios for the 13 new ministers, including nine with Cabinet rank and four ministers of state, was not sent to Governor Vajubhai Vala.
"Consultations are on as some of the portfolios held by the incumbent ministers may be changed and allocated to the new ministers," the official added.
Meanwhile, on the advice of the chief minister, the governor elevated Agriculture Minister Krishna Byre Gowda and Medical Education Minister Sharan Prakash R Patil to Cabinet rank.
Of the 33-member ministry, including the chief minister, 27 hold Cabinet rank and six ministers of state rank.
Resentment is also brewing in a dozen aspiring lawmakers who failed get ministerial berths despite lobbying, as only one more Cabinet post is vacant.