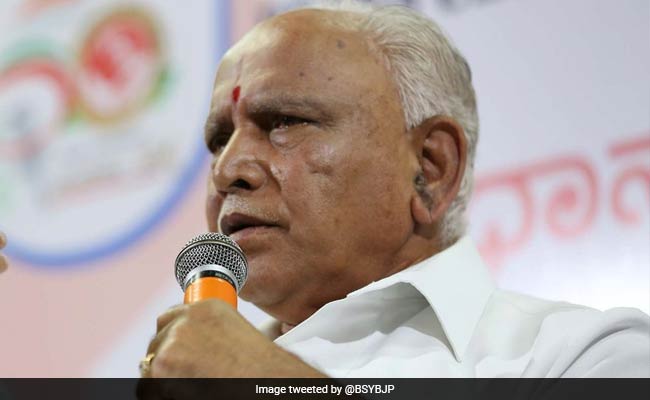 Bengaluru:
Defending the BJP leadership's decision of giving tickets to mining barons,the Reddy brothers of Ballari and their associates, BJP's chief ministerial candidate
BS Yeddyurappa
today said that winning each assembly constituency was important for the party in the upcoming
Karnataka elections
.
Mr Yeddyurappa
said he was aware of his past experiences with the Reddy brothers and would cautiously move ahead.
"All the former and present MLAs of Ballari, including Sriramulu, are with us. While two of them left us, we gave tickets to the rest of them. They will surely win. Victory is equally important," he said.
BJP has fielded G Somashekhara Reddy in Ballari city
and his elder brother and former Ballari Lok Sabha member G Karunakara Reddy in Harappanahalli in Davanagere district.
Another brother, Janardhana Reddy, has been barred from entering Ballari,in accordance with his bail conditions in the illegal mining case and is camping near Molakalmuru in Chitradurga district overseeing the campaign of his siblings as also the BJP.
Mr Yeddyurappa said Janardhana Reddy had not expected a ticket to contest the polls and added that if he felt he should help, he was free to do so independently.
"I admit I should move cautiously," he told a meet-the-press programme organised by the Press Club of Bangalore and Bangalore Reporters Guild.
Mr Yeddyurappa said he has not forgotten the past.
"I am not forgetting (the past incidents of) Reddy brothers. I have told you we will be very careful in future. I know what had happened when I was the chief minister. I will be careful," said the former chief minister.
Asked about chief minister
Siddaramaiah's accusation
that Somashekhara Reddy had been accused of bribing a judge in the cash for bail case, he said the charge was not true and had lost its meaning as the
Reddy brothers
had been absolved.
Somasekhara Reddy has been accused of bribing a judge in the cash-for bail case that involved Janardhana Reddy. He is currently out on bail.
Mr Yeddyurappa counter questioned the chief minister, asking him to explain the cases against their candidate Anand Singh, to whom they had given a ticket and who too had been to jail.
To a question on reported differences of opinion between him and party president Amit Shah regarding Janardhana Reddy, Mr Yeddyurappa said the latter was not in the BJP.
BJP has publicly distanced itself from Janaradhana Reddy, with party chief Amit Shah recently saying it has nothing to do with him.
Mr Yeddyurappa, however, admitted he had met Reddy before Amit Shah had publicly disowned him.
"Since the court has denied him (Reddy) permission to canvassin the election (at Ballari), he cannot canvass for us. For me winning each and every constituency is important."
To a query that Reddy brothers had abused him in public, Mr Yeddyurappa said, "You forget....What about people's opinion? How can they win there then?"
Asked how he would face the electorate when he had been to jail on corruption charges, the BJP leader said he has been absolved of all charges by the courts.
Mr Yeddyurappa demanded that the chief minister, who has been tauting him, saying he was once a prisoner, explain who gifted him the Rs 70 lakh watch and the reason for it.
"Siddaramaiah who looted and did corruption, talks of Yeddyurappa going to jail. Why are then people giving me 150 seats?"
The BJP leader ruled out any possible tie-up with Janata Dal (Secular), headed by former prime minister
HD Deve Gowda
, saying that such a question does not arise because his party would get absolute majority.
"Even in Badami, defeat is staring at him. Congress is a divided house with three doors,where there are differences of opinion between Siddaramaiah, Mallikarjun Kharge and G Parameshwara," said Yeddyurappa.